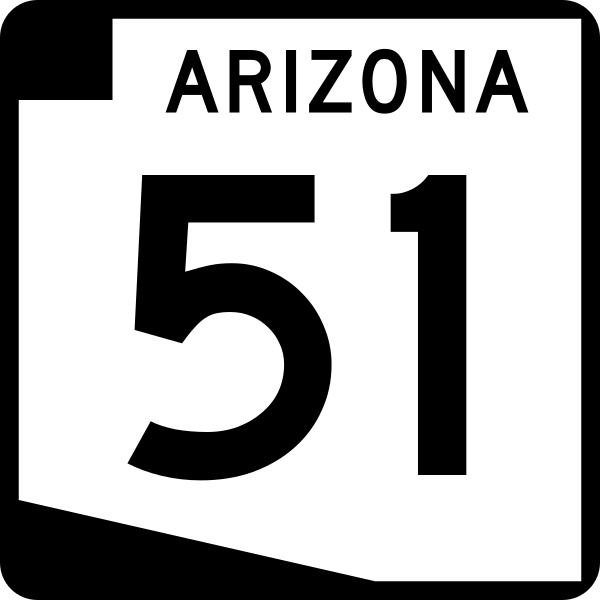 AZ 51
State Route 51 is named the Piestewa Freeway in honor of Private First Class Lori Piestewa, who was the first Native American woman to die in combat in the U.S. Military. SR 51 travels through the Piestewa Peak Recreation Area, also named for the same reason. Previously, the freeway and peak were named Squaw Peak Parkway and Squaw Peak. This was changed in 2003 as the word "squaw" is considered offensive by many Native Americans.
---
---
Cool Features
SR 51 between McDowell Rd and Glendale Ave was originally constructed by the City of Phoenix.
SR 51 was originally planned to be Interstate 510.
Pictures
Exit List
Exit/
Mile
Northbound Exits
Read down
Southbound Exits
Read up
1

E

AST


Tucson

E

AST


W

EST


Los Angeles

McDowell Rd
McDowell Rd
2
Thomas Rd
20th St
Thomas Rd
20th St
3
Indian School Rd
VA Medical Center
Indian School Rd
VA Medical Center
4A
Highland Ave
Camelback Rd
Colter St
Camelback Rd
4B
Bethany Home Rd
Bethany Home Rd
5
Glendale Ave
Lincoln Dr
Glendale Ave
Lincoln Dr
7
Northern Ave
Northern Ave
8
32nd St
9
Shea Blvd
Shea Blvd
10
Cactus Rd
Cactus Rd
11
Thunderbird Rd
12
Greenway Rd
Greenway Rd
13
Bell Rd
Bell Rd
14
Union Hills Dr
Paradise Valley Comm College
Union Hills Dr
Paradise Valley Comm College
15

◊ HOV EXIT




E

AST


NO ACCESS TO TATUM BLVD

15A

E

AST
15B

W

EST


Black Mtn Blvd
---
Page last updated: 10/31/2023