Arizona Welcome Signs
There have been many Arizona welcome sign designs through the years. This page will provide information about the history of Arizona's welcome signs as well as information and locations for each of the 6 new welcome sign designs that were introduced in early 2020. We'll start with the current signs and then make our way back. Notice: The years for when signs prior to 2020 were introduced are approximate based on the oldest images that I am able to find of them. There's not much information online about these signs, so I don't have much to go off of other than that. If you have information that you would like to provide, please fill out the new contact form or send me an email at webmaster@aznate.tech.
---
These signs were unveiled by Governor Doug Ducey on December 11, 2019. This welcome sign update consists of 6 new welcome sign designs that showcase different natural attractions and landscapes on each design. The locations included are the Grand Canyon, Horseshoe Bend, Organ Pipe Cactus National Monument, Saguaro National Park, the San Francisco Peaks, and Sedona's red rocks. The signs went up at the state borders in early 2020.
Below is a showcase of the 6 sign designs. You can click on each image to open it in a new window. Each image has a link to the location on Google Maps too.
Below the showcase is a map that shows which design is at each entrance into the state. If you have any information about which designs are at locations that are missing images or just not on the map at all, please send me an email at webmaster@aznate.tech.
Welcome Sign Designs
Images from the Arizona Governor's website.
Welcome Sign Map
Some interesting points to mention here:
---
This is the iconic state flag design welcome sign. These signs were up around the state for nearly 30 years before being replaced with the current design; however, it is still being used in some locations.
---
This design was a very simple design that was seemingly quite a downgrade from the previous welcome signs shown below.
Image from Ken Horn on Flickr.
---
There seem to be a few welcome sign designs from around this time. The first image is likely on US 80 in Yuma. The second image is from US 66, likely at the California border based on the terrain. The third image does not have a location.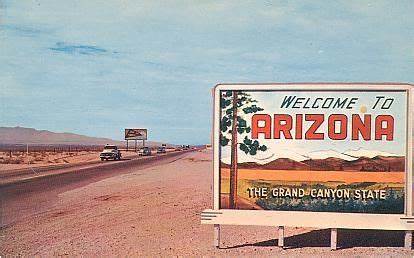 Image from Microsoft Bing on Pinterest.
Image from Postcard Gems Blogspot.
Image from Lauren on Pinterest.
---
This welcome sign is very similar to the previous one shown below, however the background is a different color.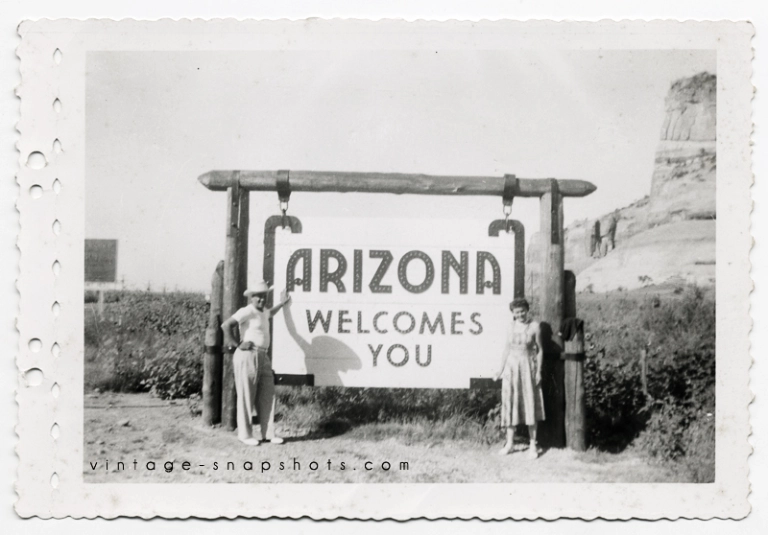 Image from Vintage Snapshots.
---
This is the earliest Arizona welcome sign that I found. I'm not sure if this is the first design ever used or not, however the image below is from 1939.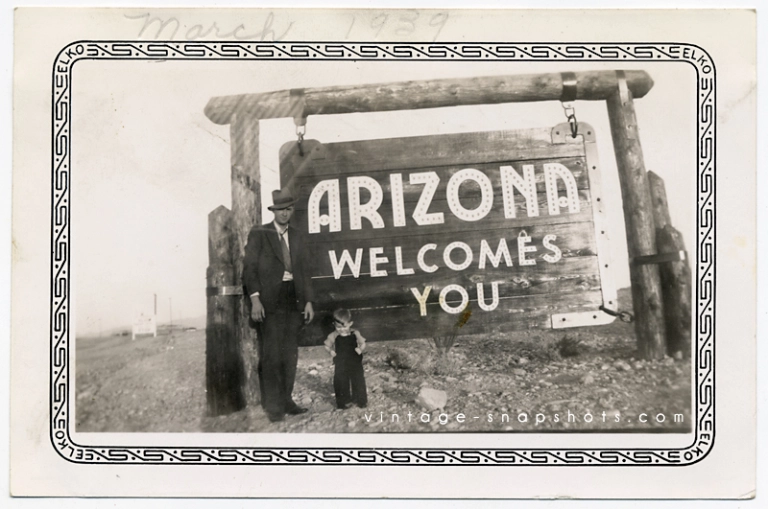 Image from Vintage Snapshots.
---
Page last updated: 6/16/2023