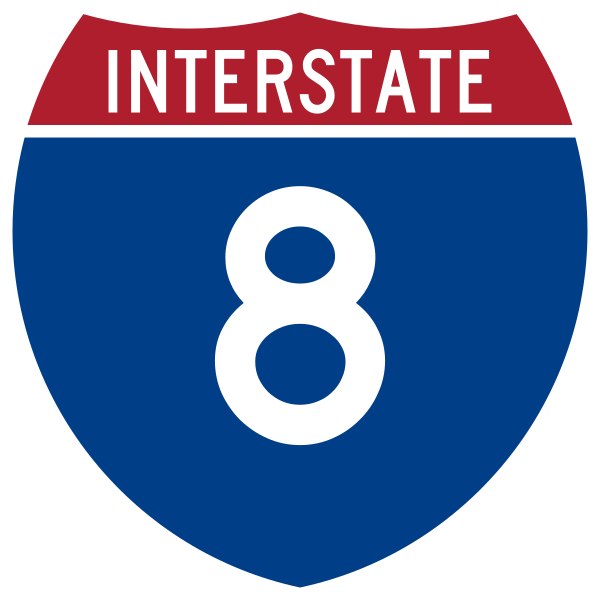 Interstate 8
In Arizona, Interstate 8 runs from the California border in Yuma to I-10 in Casa Grande. It is the successor of US 80 as the main route to San Diego. Interstate 8 from I-10 in Casa Grande to AZ 85 in Gila Bend is considered a part of the Phoenix Bypass Route.
---
---
Cool Features
East of Yuma, a segment of I-8 has the westbound and eastbound lanes cross over each other. This is Telegraph Pass. I-8 and AZ 87 are the only highways in the state that criss-cross lanes like this.
Interstate 8 has the longest section of Interstate in Arizona without an exit; the 21 miles between exits 119 and 140. Additionally, the 60 miles between Gila Bend and Casa Grande have no services in between.
Related Routes
Business Loop 8
There are Business Loops for I-8 in both Gila Bend and Yuma. In Gila Bend, BL 8 runs from Exit 119 on Butterfield Trail, onto Main St/AZ 85 through downtown Gila Bend before connecting back up with I-8 at Exit 115. In Yuma, BL 8 runs from Exit 9 at the Avenue 8½E interchange, taking 32nd St and 4th Ave through Yuma, past the state line into California with an interchange with I-8. It also continues past that interchange, through Winterhaven, CA, before meeting back up with I-8 at California Exit 170.
Pictures
Exit List
Exit/
Mile
Eastbound Exits
Read down
Westbound Exits
Read up
0
California State Line
Colorado River
1
Redondo Center Dr
Giss Parkway
Giss Parkway
Yuma Territorial Prison
State Historic Park
Yuma Territorial Prison
State Historic Park
Arizona Port of Entry
2

16th St

16th St
3
Avenue 3E
Avenue 3E
7

Araby Rd

Araby Rd
9

Avenue 8

½

E

Avenue 8

½

E
12
TO

N

ORTH


Fortuna Rd

TO

N

ORTH


Fortuna Rd

14
Foothills Blvd
Foothills Blvd
16
Inspection Station
21
Dome Valley
Dome Valley
22
Parking Area
Parking Area
30
Ave 29E
Wellton
Ave 29E
Wellton
37
Ave 36E
Roll
Ave 36E
Roll
42
Ave 40E
Tacna
Ave 40E
Tacna
54
Ave 52E
Mohawk Valley
Ave 52E
Mohawk Valley
56
Rest Area
Rest Area
67
Dateland
Dateland
73
Aztec Rd
Aztec Rd
78
Spot Rd
Spot Rd
80
ENTERING
Maricopa County
ENTERING
Yuma County
83
Rest Area
Rest Area
87
Agua Caliente Rd
Sentinel
Agua Caliente Rd
Sentinel
102
Painted Rock Rd
Painted Rock Rd
106
Paloma Rd
Paloma Rd
111
Citrus Valley Rd
Citrus Valley Rd
115

Phoenix
Ajo
Gila Bend
Mexico

Phoenix
Ajo
Gila Bend
Mexico
Organ Pipe Cactus
National Monument
Organ Pipe Cactus
National Monument
119

Butterfield Trail

TO


Butterfield Trail
140
Freeman Rd
Freeman Rd
144
Vekol Rd
Vekol Rd
146
ENTERING
Pinal County
ENTERING
Maricopa County
148
Parking Area
150
Parking Area
151

E

AST

TO

N

ORTH


Maricopa

E

AST

TO

N

ORTH


Maricopa

161
Stanfield
Stanfield
EXIT 30 MPH
167
Montgomery Rd
Montgomery Rd
169
Bianco Rd
Bianco Rd
EXIT 25 MPH
EXIT 25 MPH
172
Thornton Rd
Thornton Rd
EXIT 25 MPH
174
Trekell Rd
Trekell Rd
178A

E

AST



Tucson

178B

W

EST



Phoenix

LEFT EXIT
---
Page last updated: 5/26/2022