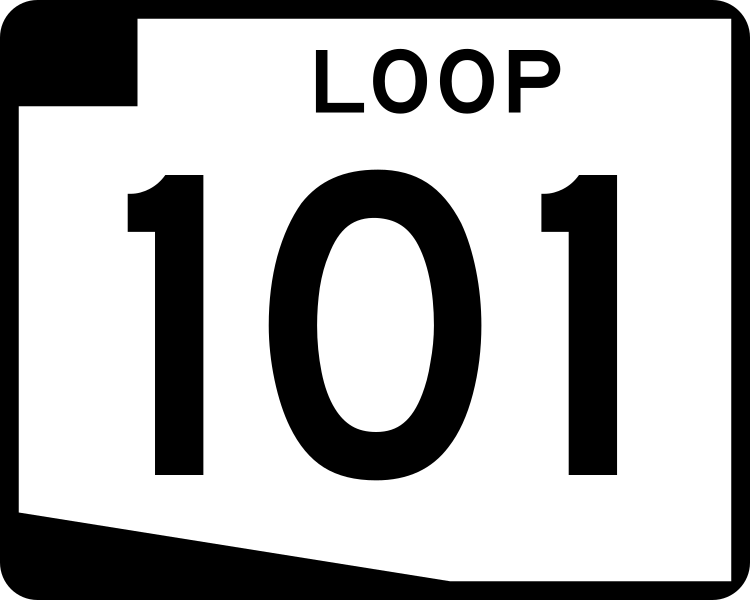 Loop 101
State Route 101 is the first of the 3 highways that "loop" around the Phoenix area. The posted directions change between North/South and East/West as the loop direction changes. Despite being called loops, the highways aren't actually full loops. Loop 202 is now the closest to a full loop with the South Mountain extension.
---
---
Cool Features
The Loop 101 has three different names along its route. The first section between I-10 and I-17 is the Agua Fria Freeway. Between I-17 and the Red Mountain Loop 202 it's the Pima Freeway. Lastly, between the Red Mountain and Santan Loop 202, the 101 is the Price Freeway.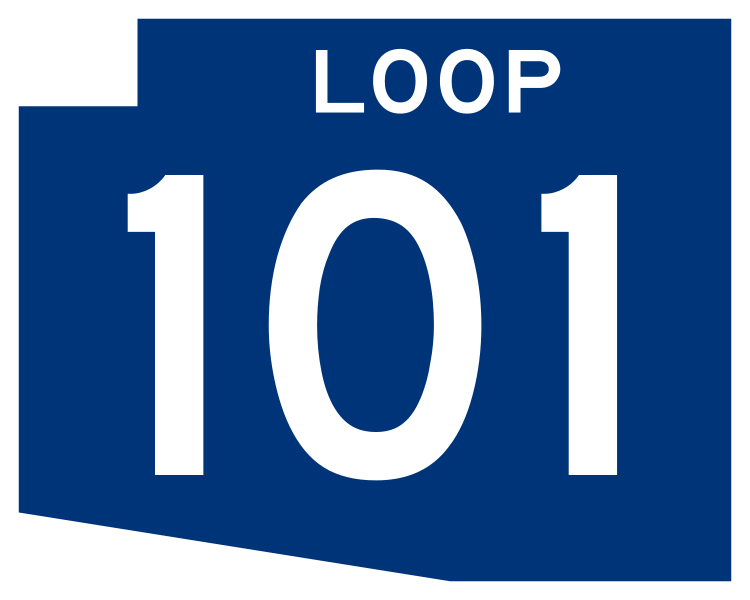 All of the loop highways were originally signed with uniquely colored route shields; the 101's being blue. However, due to the Loop 202's poorly chosen brown shield that faded easily and that it was seemingly hard for contractors to get the colored signage correct in general, the colored shields were phased out.
Related Routes
SR 117 & SR 417
Originally, Loop 101 was proposed as State Route 417 from Maricopa County Route 85 to I-17 and State Route 117 from I-17 to the then proposed SR 220, now the Loop 202 Santan. Loop 101 was actually built pretty much the same as the map below shows, although the little segment between MC 85 and I-10 was never built.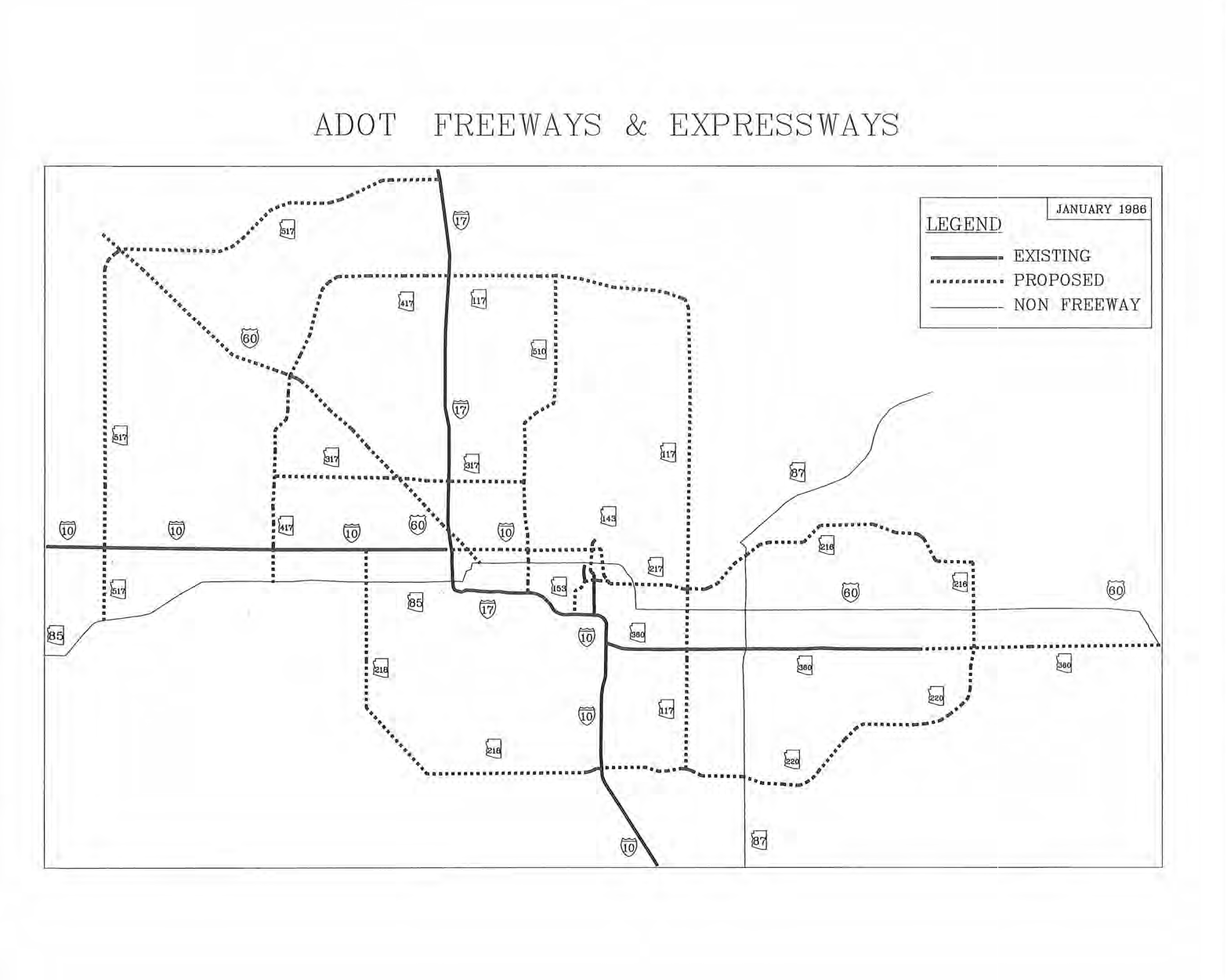 Pictures
Exit List
Exit/
Mile
Clockwise Exits
Read down
Counterclockwise Exits
Read up
Agua Fria Freeway
1A

W

EST


Los Angeles

1B

E

AST


Phoenix

2
McDowell Rd
3
Thomas Rd
Thomas Rd
4
Indian School Rd
Indian School Rd
5
Camelback Rd
Camelback Rd
6
Cardinals Way
Cardinals Way
7A

◊ HOV EXIT


Maryland Ave

◊ HOV EXIT


Maryland Ave
LEFT EXIT
LEFT EXIT
7B
Glendale Ave
Luke AFB
Glendale Airport
Glendale Ave
Luke AFB
Glendale Airport
8
Northern Ave
Northern Ave
Zoo & Aquarium
Zoo & Aquarium
9
Olive Ave
Glendale Comm College
El Mirage
Olive Ave
Glendale Comm College
El Mirage
White Tank Mtn Park
White Tank Mtn Park
10
Peoria Ave
Youngtown
Peoria Ave
Youngtown
11

TO


Grand Ave
Kingman
Las Vegas
Surprise
91st Ave


TO

TO




TO

Grand Ave
Kingman
Las Vegas
Surprise
12
Thunderbird Rd
Arizona State University
West Campus
Thunderbird Rd
Arizona State University
West Campus
Peoria Veterans Memorial
Peoria Veterans Memorial
14
Bell Rd
Bell Rd
Surprise Stadium
Peoria Sports Complex
Surprise Stadium
Peoria Sports Complex
15
Union Hills Dr
Signed as North/South
Signed as East/West
16
Beardsley Rd
Union Hills Dr
17
75th Ave
75th Ave
18
67th Ave
67th Ave
19
59th Ave
59th Ave
20
51st Ave
51st Ave
22
35th Ave
23A
27th Ave
27th Ave
23B

N

ORTH


Flagstaff

N

ORTH


Flagstaff

23C

S

OUTH


Phoenix

S

OUTH


Phoenix

Agua Fria Freeway
Pima Freeway
24
19th Ave
25
7th Ave
7th Ave
26
7th St
7th St
28
Cave Creek Rd
Cave Creek Rd
29

S

OUTH

S

OUTH

◊ HOV EXIT




S

OUTH
LEFT EXIT
31
Tatum Blvd
Tatum Blvd
32
56th St
56th St
33
64th St
64th St
34
Scottsdale Rd
Carefree
Airport
Scottsdale Rd
Carefree
Scottsdale Airport
35
Hayden Rd
Hayden Rd
Signed as West/East
Signed as South/North
36
Princess Dr
Pima Rd
Bell Rd
Westworld
Princess Dr
Pima Rd
38
Frank Lloyd Wright Blvd
Frank Lloyd Wright Blvd
Bell Rd
Westworld
39
Raintree Dr
Thunderbird Rd
Raintree Dr
40
Cactus Rd
Cactus Rd
Frank Lloyd Wright's Home & Studio -
Taliesin West World Heritage Site
Frank Lloyd Wright's Home & Studio -
Taliesin West World Heritage Site
41
Shea Blvd
Fountain Hills
Shea Blvd
Fountain Hills
42
Pima Rd - 90th St
Pima Rd
90th St
43
Via De Ventura
Via De Ventura
44
Talking Stick Way
Indian Bend Rd
Talking Stick Way
Indian Bend Rd
45
McDonald Dr
McDonald Dr
46
Chaparral Rd
Scottsdale Comm College
Chaparral Rd
Scottsdale Comm College
47
Indian School Rd
Downtown Scottsdale
Civic Center
Indian School Rd
Downtown Scottsdale
Civic Center
48
Thomas Rd
Thomas Rd
49
McDowell Rd
McDowell Rd
50
McKellips Rd
McKellips Rd
51

E

AST

W

EST

W

EST

E

AST
Pima Freeway
Price Freeway
52
Rio Salado Pkwy
University Dr
Apache Blvd
University Dr
Rio Salado Pkwy
53
Broadway Rd
Broadway Rd
54
Southern Ave
Baseline Rd
55A

E

AST


Globe

E

AST


Globe

55B

W

EST


Phoenix

W

EST


Phoenix

55C
Basline Rd
Southern Ave
56
Guadalupe Rd
Guadalupe Rd
57
Elliot Rd
Elliot Rd
58
Warner Rd
Warner Rd
59
Ray Rd
Ray Rd
60
Chandler Blvd
61A
Price Rd
61B

W

EST
61C

E

AST

◊ HOV EXIT




E

AST
LEFT EXIT
Price Freeway
---
Page last updated: 9/9/2023