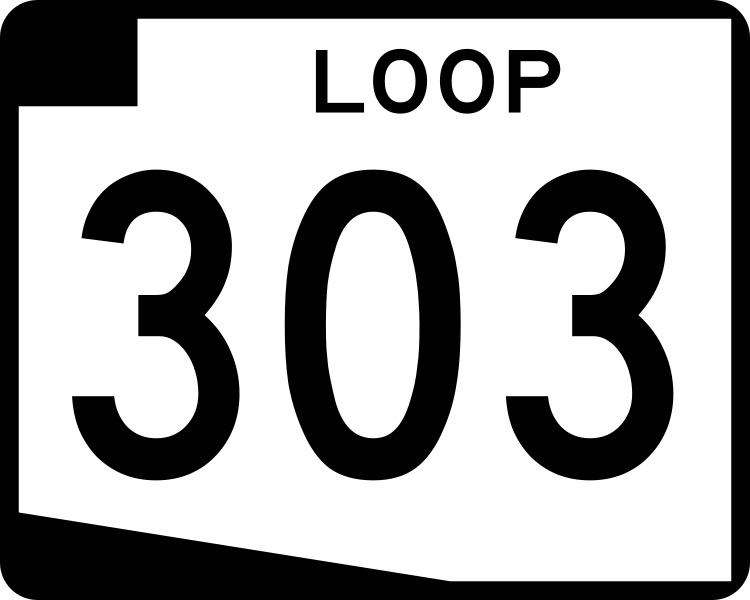 Loop 303
State Route 303 is the third of the 3 highways that "loop" around the Phoenix area. The Loop 303 is the only loop that is currently signed as north/south for its entire length. Loop 303 is the newest loop, and because of that, it's also the shortest. In 2025, construction is expected to start on a new extension of Loop 303 from Van Buren St, south of I-10 to Maricopa County 85.
---
---
Cool Features
The Loop 303 is fully designated as the Bob Stump Memorial Parkway.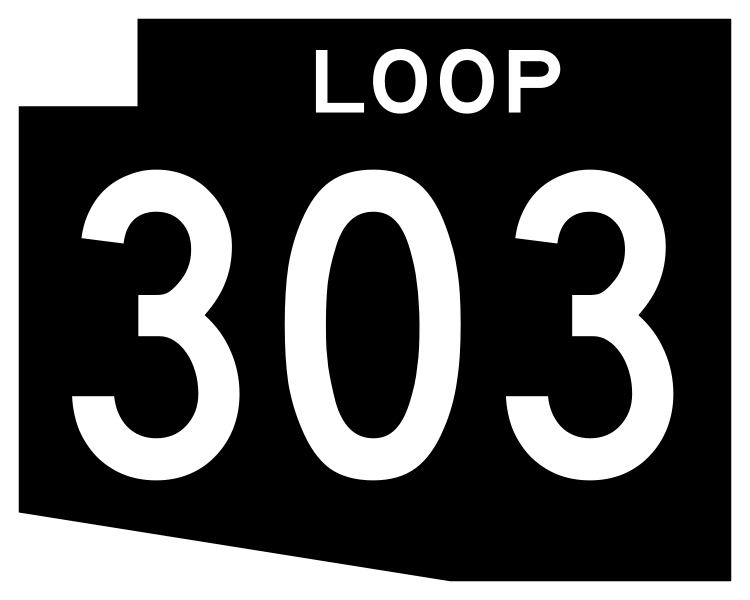 All of the loop highways were originally signed with uniquely colored route shields; the 303's being an inverted standard shield. However, due to the Loop 202's brown shield being very vulnerable to fading, and that it was seemingly hard for contractors to get the colored signage correct in general, the colored shields were phased out. It is unlikely that there are many old Loop 303 shields still out in the wild since it was upgraded to a proper freeway.

On September 8, 2023, ADOT opened new interchanges at 43rd and 51st Avenues to provide access for the future TSMC factory in North Phoenix and as part of the ongoing Lake Pleasant Pkwy to I-17 improvement project. The project will also include an interchange at 67th Avenue and new ramps at Interstate 17 some time in the future.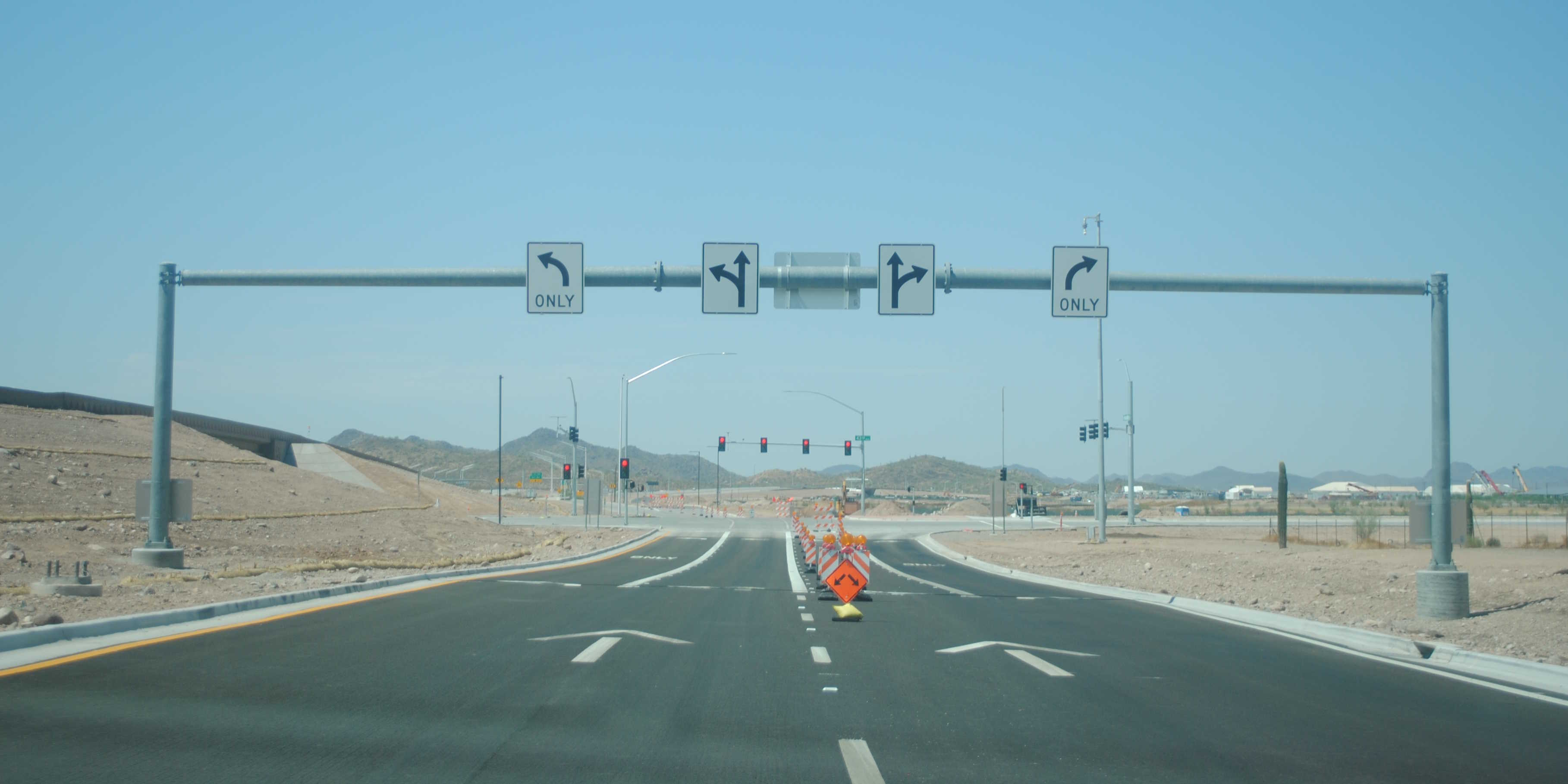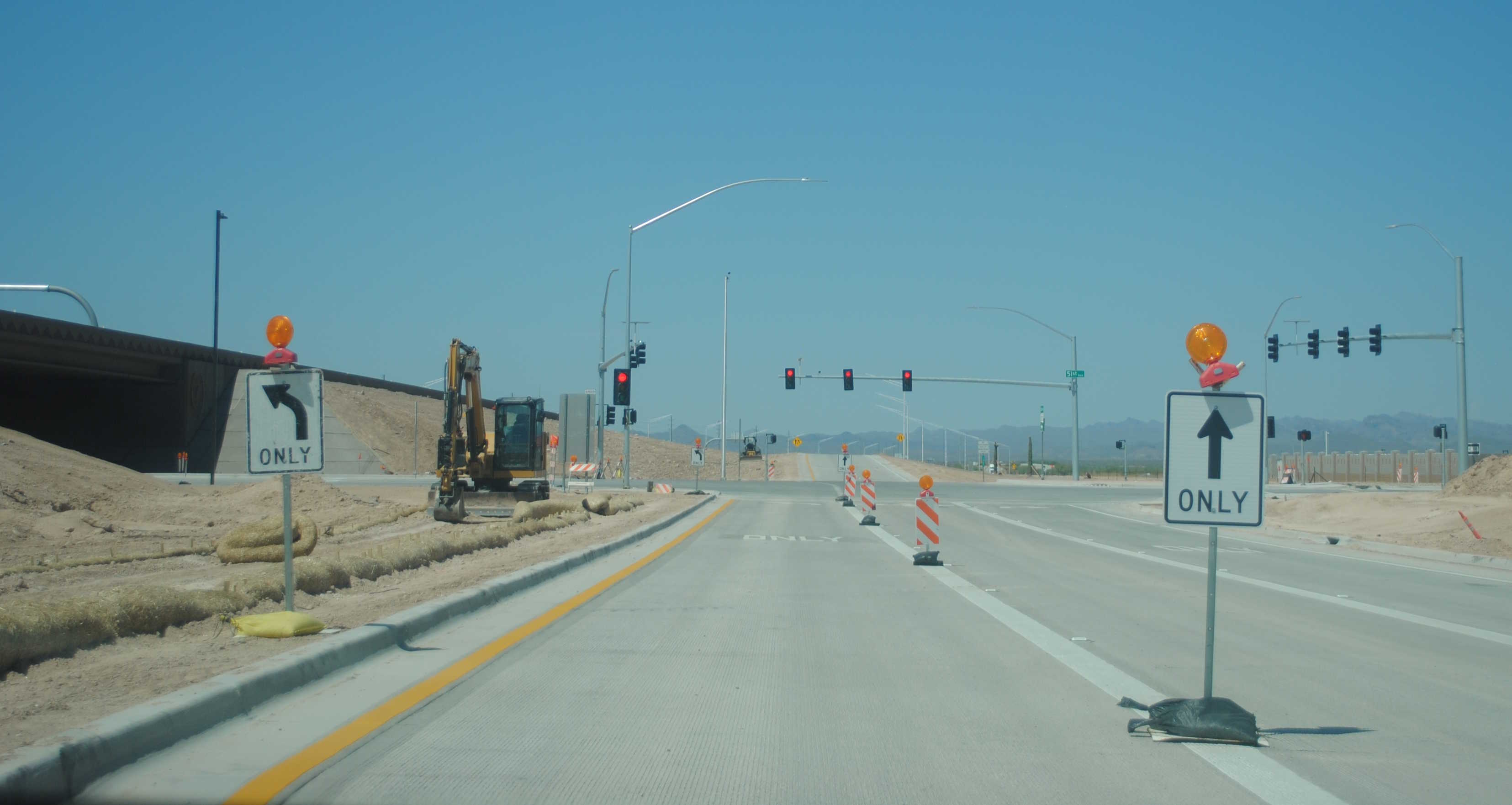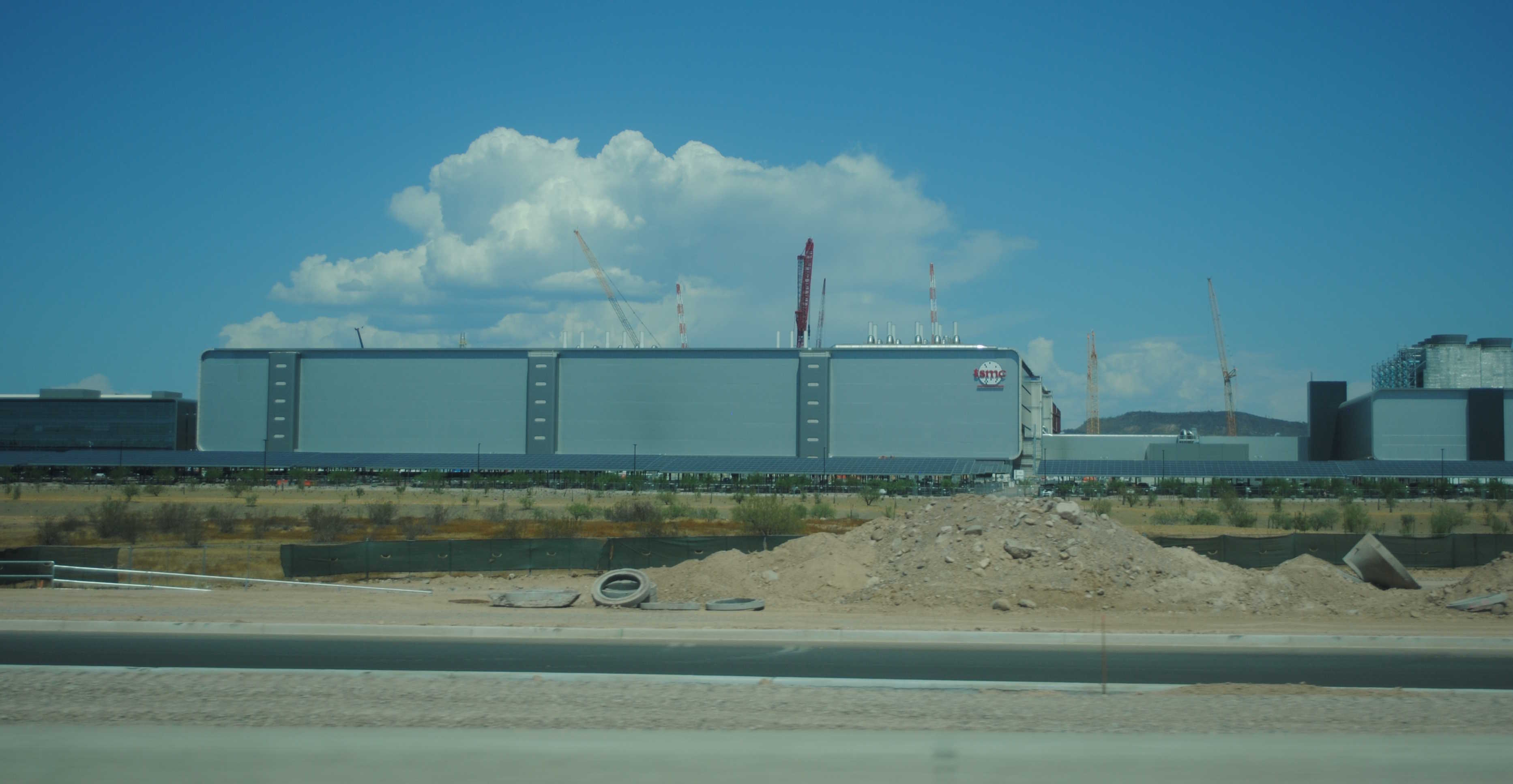 Related Routes
SR 517
Originally, Loop 303 was proposed as State Route 517. Overall, the current route of the freeway is kind of similar to how it actually turned out; however, the original proposal protrudes out more northwest than the existing path of Loop 303 today. Also, since the extension of Loop 303 south of I-10 down to MC 85 will be starting soon, it will finally complete this original SR 517 proposal.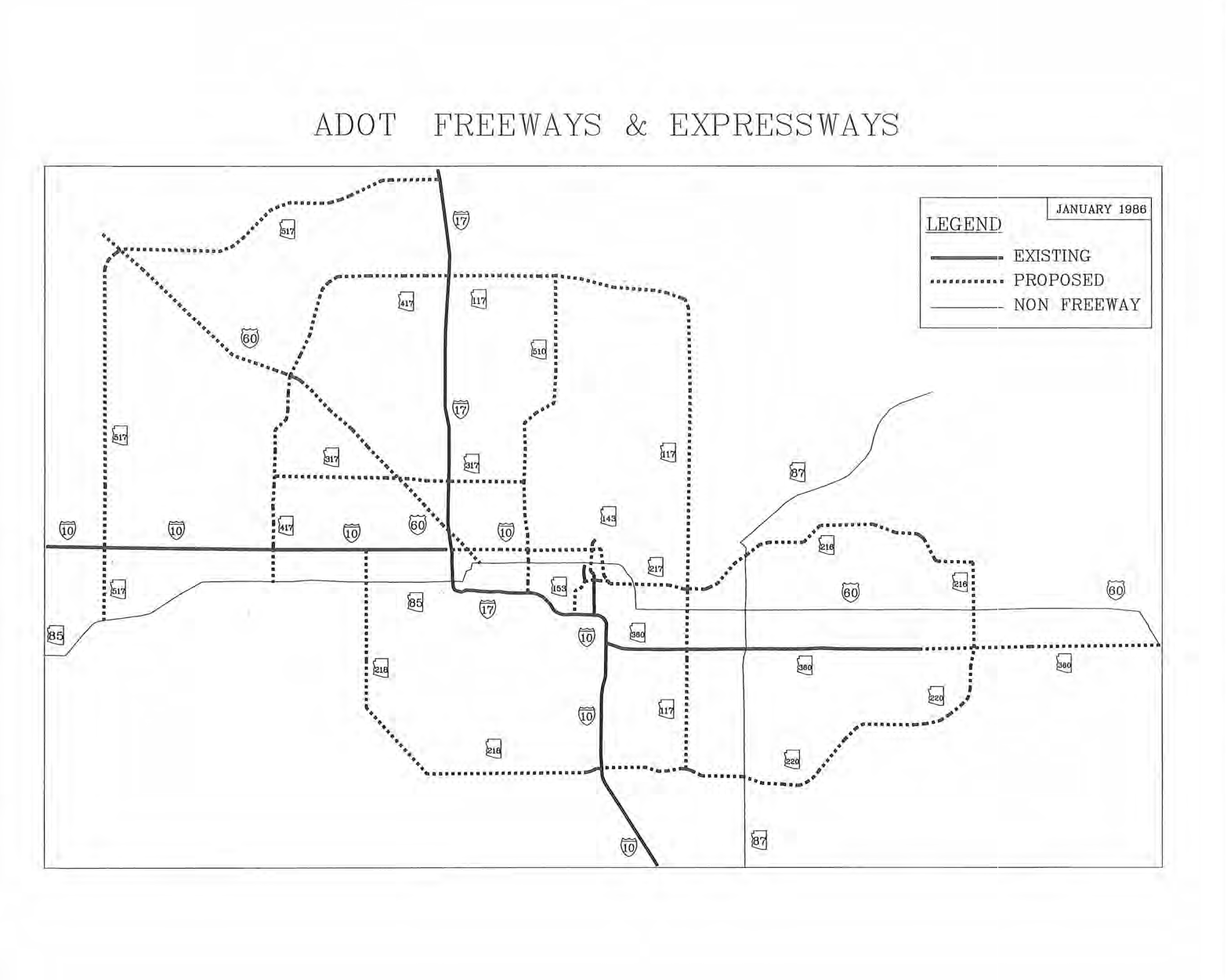 Pictures
Exit List
Exit/
Mile
Northbound Exits
Read down
Southbound Exits
Read up
100
Maricopa County 85
101
Elwood St
102
Yuma Road
Yuma Road
103
Van Buren St
McDowell Rd
Van Buren St
McDowell Rd
104A

E

AST


Phoenix

E

AST


Phoenix

104B

W

EST


Los Angeles

W

EST


Los Angeles

105
Thomas Rd
McDowell Rd
Van Buren St
106
Indian School Rd
Indian School Rd
107
Camelback Rd
Camelback Rd
108
Bethany Home Rd
Bethany Home Rd
109
Glendale Ave
Glendale Ave
110A
Northern Ave
Wildlife World Zoo & Aquarium
110B
Northern Pkwy
Northern Pkwy
Wildlife World Zoo & Aquarium
112
Peoria Ave
Peoria Ave
113
Cactus Rd
Cactus Rd
114
Waddell Rd
Waddell Rd
115
Greenway Rd
Greenway Rd
116
Bell Rd
Bell Rd
119

Grand Ave

Grand Ave
123
El Mirage Rd
El Mirage Rd
125
Happy Valley Pkwy
Vistancia Blvd
Happy Valley Pkwy
Vistancia Blvd
126
Jomax Parkway
Jomax Parkway
127
Lone Mtn Parkway
Lone Mtn Parkway
131
Lake Pleasant Parkway
Lake Pleasant Parkway
134
67th Ave
67th Ave
136
51st Ave
51st Ave
137
43rd Ave
43rd Ave
138
Sonoran Desert Dr
JCT
---
Page last updated: 9/9/2023