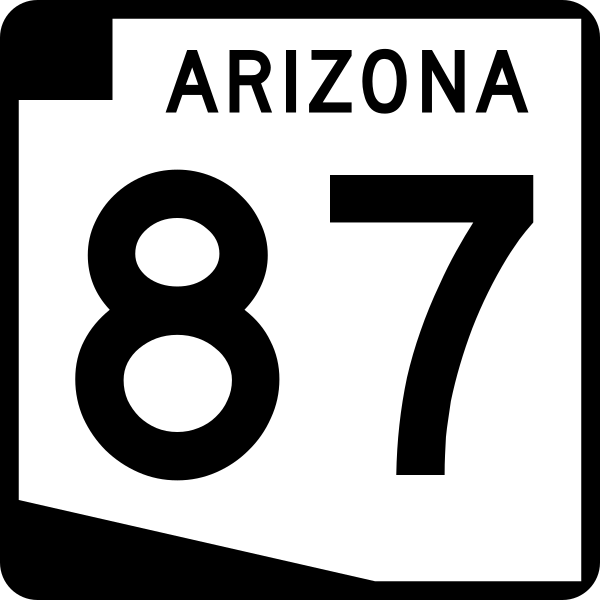 AZ 87
State Route 87 is a major state route that runs from Eloy in south-central Arizona to Second Mesa in northern Arizona. It passes through multiple significant cities such as Chandler, Mesa, Payson, and Winslow. Originally, SR 87 was meant to be a connector between Casa Grande and Mesa. Eventually, SR 87 was rerouted to end in Eloy and eventually extend to Payson. It also took over SR 65 north of Payson and SR 166 north of Winslow.
---
Length: 273 miles
Existed since: 1927
Current Route: Phillips Rd, south of I-10 in Picacho to AZ 264 in Second Mesa
1st Historical Route: Casa Grande to Mesa
2nd Historical Route: Eloy to Payson
Major Junctions: AZ 84 (kind of), AZ 287, AZ 387, AZ 187, AZ 587, Loop 202, US 60, AZ 188, AZ 260, AZ 99, I-40, AZ 264
---
Cool Features
The southern end of SR 87 is quite interesting. Before the new interchange with I-10 was constructed, SR 87 ended about a 1/2 mile before it. Now, signs say that SR 87 ends at I-10, but the ADOT State Highway System map shows SR 87 continues past I-10 on the new stretch of road that was built to connect with Phillips Rd. Additionally, even though SR 84 is signed as ending in Casa Grande, it technically intersects SR 87 from the Casa Grande-Picacho Hwy. The ADOT map shows that SR 84 is actually concurrent with SR 87 from there until Phillips Rd interestingly enough.
SR 87 is one of two highways in the state that has a segment where the lanes criss-cross over each other. I-8 is the other one. The north and southbound lanes of SR 87 have to cross over each other through the Mazatzal Mountains.
Technically, SR 87 does not run through Chandler and Mesa completely due to the roads mostly being owned and maintained by the cities. There is a segment between the Western Canal and Baseline Road that is maintained by ADOT still; along with segments around freeway interchanges.
Pictures
---
Page last updated: 3/18/2023