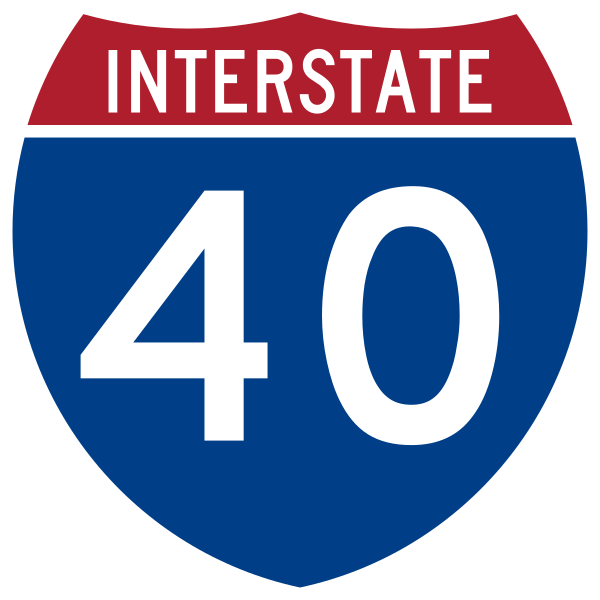 Interstate 40
In Arizona, Interstate 40 runs from the California border near Kingman to the New Mexico border near Gallup, NM. I-40 is a decently major cross-country freeway from California to North Carolina. It replaced most of US 66.
---
Length: 2,559 miles in total, 359 miles in Arizona
Existed since: 1960
Current Route in Arizona: California state line near Kingman to New Mexico state line near Lupton
Current Route Nationally: Barstow, CA to Wilmington, NC
Major Junctions: AZ 95, US 93, AZ 66, AZ 89, AZ 64 , I-17, AZ 89A, US 180, AZ 99, AZ 87, AZ 77, US 191
---
Related Routes
Business Loop 40
Interstate 40 has business loops in Seligman, Ash Fork, Flagstaff, Winslow, Joseph City, and Holbrook. All I-40 business loops run mostly along the old route of US 66. In Seligman BL 40 runs from I-40 at Exit 121 and ends at I-40 at Exit 123. In Ash Fork, BL 40 runs from Exit 145 to Exit 146 of I-40 along Park and Lewis Avenues. BL 40 in Flagstaff runs from I-40 at Exit 191 along old US 66 to AZ 89A. From there is heads north along Milton Rd, then along Route 66 through downtown Flagstaff to US 180 at Humphreys St. BL 40 then runs south on Country Club Dr and ends at I-40 at Exit 201. In Winslow, BL 40 runs from I-40 Exit 252 to 255 along old US 66 (partially). Through the town itself, the road is maintained by the town, however there are still parts of the road maintained by ADOT as marked on the State Highway System map. Exit signage also mentions the Business Loop still. In Joseph City, BL 40 runs along former US 66 from I-40's Exit 274 to Exit 277. Lastly, in Holbrook, I-40's business loop runs from I-40 eExit 285 to Exit 289. Formerly, there were business loops in Kingman, Williams, East Flagstaff, and Winslow. Until 2009, BL 40 in Kingman ran from Exit 48 along Beale St, then went north up Andy Devine Ave and ended at I-40 at Exit 53. In Williams, BL 40 was decommissioned in 1990. It ran from Exit 161 of I-40 through downtown to Exit 165 of I-40. In Flagstaff, until 2008 there was a second business loop for I-40. This route ran from the other BL 40 along Santa Fe Ave until I-40's Exit 204.
Business Spur 40
There is one business spur of I-40 that can be found in Winslow. It runs from I-40 at Exit 252 along Hipkoe Dr. It then turns on 3rd St, westward it ends just north of Cooperstown Road and the county line.
Pictures
Exit List
Exit/
Mile
Eastbound Exits
Read down
Westbound Exits
Read up
0
California State Line
Colorado River
1
Golden Springs
Oatman
Golden Springs
Oatman
Bullhead City

Havasu National
Wildlife Refuge

Havasu National
Wildlife Refuge
2
Needle Mountain Rd
Needle Mountain Rd
3
WEIGH STATION
WEIGH STATION
9

S

OUTH
Lake Havasu City
Parker

S

OUTH
Lake Havasu City
Parker
Lake Havasu State Park
London Bridge
Lake Havasu State Park
London Bridge
13
Franconia Rd
Franconia Rd
20
Santa Fe Ranch Rd
Santa Fe Ranch Rd
23
Rest Area
Rest Area
25
Alamo Rd
Alamo Rd
26
Proving Ground Rd
Proving Ground Rd
28
Old Trails Rd
Old Trails Rd
37
Griffith Rd
Griffith Rd
44

Historic Route 66
Oatman
Oatman Hwy

Historic Route 66
Oatman
Oatman Hwy
48

TO


Beale St
Las Vegas
Bullhead City
Laughlin

TO


Beale St
Las Vegas
Bullhead City
Laughlin

TO


Kingman Historic District

TO


Kingman Historic District
51
Stockton Hill Rd
Mohave County Fairgrounds
Mohave Comm College
Stockton Hill Rd
Mohave County Fairgrounds
Mohave Comm College
53

E

AST
Andy Devine Ave
Kingman Airport

E

AST
Andy Devine Ave
Kingman Airport

Peach Springs

Peach Springs
59
DW Ranch Rd
DW Ranch Rd
66
Blake Ranch Rd
Blake Ranch Rd
71

S

OUTH
Wickenburg
Phoenix

S

OUTH
Wickenburg
Phoenix
79
Silver Springs Rd
Silver Springs Rd
87
Willows Ranch Rd
Willows Ranch Rd
91
Fort Rock Rd
Fort Rock Rd
93
ENTERING
Yavapai County
ENTERING
Mohave County
96
Cross Mountain Rd
Cross Mountain Rd
103
Jolly Rd
Jolly Rd
109
Anvil Rock Rd
Anvil Rock Rd
121

TO




Seligman

TO




Seligman


Seligman Historic District
123

TO




Seligman

TO




Seligman


Seligman Historic District
139
Crookton Rd
Crookton Rd
144

Ash Fork

Ash Fork
146

S

OUTH


Prescott

S

OUTH
Ash Fork
Prescott
148
ENTERING
Coconino County
ENTERING
Yavapai County
County Line Rd
County Line Rd
149
Monte Carlo Rd
Monte Carlo Rd
151
Welch Rd
Welch Rd
157
Devil Dog Rd
Devil Dog Rd
161

Williams
Grand Canyon
Golf Course Dr

Williams
Golf Course Dr
EXIT 50 MPH
EXIT 50 MPH
163
Williams
Grand Canyon
Grand Canyon Blvd
Williams
Grand Canyon
Grand Canyon Blvd
EXIT 50 MPH
EXIT 50 MPH
Grand Canyon Railway Depot
Grand Canyon Railway Depot
165

Williams
Grand Canyon

Williams
Grand Canyon
EXIT 50 MPH
EXIT 50 MPH

Williams Historic District
167
Garland Prairie Rd
Circle Pines Rd
Garland Prairie Rd
Circle Pines Rd
EXIT 45 MPH
EXIT 45 MPH
171
Pittman Valley Rd
Deer Farm Rd
Pittman Valley Rd
Deer Farm Rd
178
Parks Rd
Parks Rd
185
Hughes Ave
Bellemont
Hughes Ave
Bellemont
190
Arizona Divide
ELEVATION 7335
Arizona Divide
ELEVATION 7335
A-1 Mountain Rd
A-1 Mountain Rd
191



Flagstaff




TO

W

EST


Grand Canyon


Flagstaff Historic District
192
Flagstaff Ranch Rd
Flagstaff Ranch Rd
195

Phoenix
Flagstaff
Grand Canyon
Northern Ariz Univ
Sedona

Phoenix
Flagstaff
Sedona
Grand Canyon
Northern Ariz Univ
198
Butler Ave
Butler Ave
201

N

ORTH


Page





Country Club Dr

W

EST

N

ORTH

W

EST

Flagstaff
Page
Country Club Dr
Grand Canyon
Grand Canyon
204
Walnut Canyon Natl Monument

Walnut Canyon Natl Monument
207
Cosnino Rd
Cosnino Rd
NO TRUCKS OVER 13 TONS
NO TRUCKS OVER 13 TONS
211
Winona
Winona
219
Twin Arrows
Twin Arrows
225
Buffalo Range Rd
Buffalo Range Rd
230
Two Guns
Two Guns
233
Meteor Crater Rd
Meteor Crater Rd
Meteor Crater Natural Landmark
Meteor Crater Natural Landmark
235
Rest Area
236
Rest Area
239
Meteor City Rd
Meteor City Rd
245

N

ORTH


Leupp

N

ORTH


Leupp

250
ENTERING
Navajo County
ENTERING
Coconino County
252

Hipkoe Dr


S

OUTH


Payson


Hipkoe Dr
253
North Park Dr
North Park Dr
255

Transcon Ln
Northland Pioneer College

Transcon Ln
Northland Pioneer College
257

N

ORTH


Second Mesa

S

OUTH
Payson
Second Mesa
Homolovi Ruins State Park

Homolovi Ruins State Park
264
Hibbard Rd
Hibbard Rd
269
Jackrabbit Rd
Jackrabbit Rd
274

Joseph City

Joseph City
277

Joseph City

Joseph City
280
Hunt Rd
Geronimo Rd
Hunt Rd
Geronimo Rd
283
Perkins Valley Rd
Perkins Valley Rd
285

E

AST

S

OUTH
Petrified Forest Natl Park
Show Low
Hopi Dr
Navajo Co Fairgrounds

Hopi Dr
Navajo Co Fairgrounds
286

Navajo Blvd
Northland Pioneer College

S

OUTH

E

AST

Show Low
Heber
Northland Pioneer College
289

W

EST


Navajo Blvd
292

N

ORTH

TO




Keams Canyon

N

ORTH

TO




Keams Canyon

294
Sun Valley Rd
Sun Valley Rd
300
Goodwater
Goodwater
303
Adamana Rd
Adamana Rd
307
ENTERING
Apache County
ENTERING
Navajo County
311
Petrified Forest National Park
Petrified Forest National Park
320
Pinta Rd
Pinta Rd
325
Navajo
Navajo
330
McCarrell Rd
McCarrell Rd
333

N

ORTH
Ganado
Chambers

N

ORTH
Ganado
Chambers
Hubbell Trading Post
National Historic Site
Hubbell Trading Post
National Historic Site
339

S

OUTH
St Johns
Sanders

S

OUTH
St Johns
Sanders
340
WEIGH STATION
WEIGH STATION
341
Ortega Rd
Ortega Rd
343
Querino Rd
Querino Rd
346
Pine Springs Rd
Pine Springs Rd
348
Houck
Houck
351
Allentown Rd
Allentown Rd
354
Hawthorne Rd
Hawthorne Rd
357

N

ORTH


Window Rock

N

ORTH


Window Rock

359
Grants Rd
Grants Rd
Rest Area
New Mexico State Line
---
Page last updated: 12/30/2022