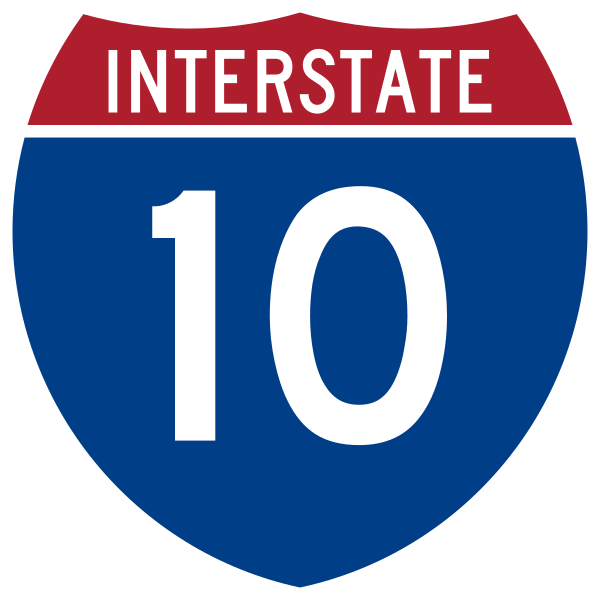 Interstate 10
In Arizona, Interstate 10 runs from the California border in Ehrenberg to the New Mexico border. Interstate 10 is one of the major cross-country Interstate highways as it allows people to smoothly travel from Los Angeles, CA to Jacksonville, FL. In Arizona, I-10 replaced many parts of US 60, US 80, AZ 84, AZ 85, and AZ 86. The last part of I-10 to be completed was the segment through Phoenix, which was finished in 1990.
---
Length: 2,460 miles in total, 392 miles in Arizona
Existed since: 1960
Current Route in Arizona: California state line in Ehrenberg to New Mexico state line east of San Simon
Current Route Nationally: Los Angeles, CA to Jacksonville, FL
Major Junctions: US 95, AZ 95, US 60, AZ 85, Loop 303, Loop 101, Loop 202, I-17, AZ 51, AZ 143, AZ 347, AZ 587, AZ 187, AZ 387, AZ 287, I-8, AZ 87, AZ 77, I-19, AZ 83, AZ 90, AZ 80, US 191, AZ 186
---
Cool Features
Interstate 10 through Phoenix was very controversial during the 1960s, 70s, and 80s. An original plan for I-10 that was proposed was an elevated freeway with giant helicoil interchanges at 3rd Ave and 3rd St to connect motorists to the freeway 100 feet in the air. This was voted down in 1973. You can view images of the interchange plans here.
The last segment of Interstate 10 to be completed nationwide was in Phoenix just north of Van Buren St on August 10, 1990.
Related Routes
Business Loop 10
There are Business Loops for I-10 in Quartzsite, Benson, Wilcox, Bowie, and San Simon. In Quartzsite, BL 10 runs from I-10 at Exit 17 on US 95, along Main St to Riggles Road where it will meet back up with I-10. In Benson, BL 10 runs along 4th St from Exit 303 at I-10 to Exit 306 at I-10. BL 10 in Wilcox runs along Haskell Ave from I-10 at Exit 336 to I-10 at Exit 344. BL 10 in Bowie runs along 6th St from I-10 at Exit 362 to I-10 at Exit 366. Lastly, BL 10 in San Simon runs along 6th St from I-10 at Exit 378 to I-10 at Exit 382. Additionally, there were also business loops for I-10 in Phoenix and Tucson. Phoenix's loop was decomissioned in 1990, when I-10 was completed. It used to connect the existing segments of I-10 while the segment through Downtown Phoenix was being built. In Tucson, BL 10 existed from 1972 to 2001. It used to follow the Benson Highway from I-10 at Exit 262 to I-10 at Exit 267.
Business Spur 10
From 1969 to 1999, there was a 0.6 mile business spur of I-10 in Benson. It ran from I-10 to 4th Street along Ocotillo Road, west of downtown Benson.
Pictures
Exit List
Exit/
Mile
Eastbound Exits
Read down
Westbound Exits
Read up
0
California State Line
Colorado River
1
Ehrenberg
Parker
Ehrenberg
Parker
3
Arizona Port of Entry
4
Rest Area
Rest Area
5
Tom Wells Rd
Tom Wells Rd
11
Dome Rock Rd
Dome Rock Rd
17

Quartzsite
Parker
Yuma

Quartzsite
19

Quartzsite

Quartzsite
Parker
Yuma
26
Gold Nugget Rd
Gold Nugget Rd
31

E

AST
Wickenburg
Prescott

E

AST
Wickenburg
Prescott
45
Vicksburg Rd

TO

W

EST
Vicksburg Rd
52
Rest Area
Rest Area
53
Hovatter Rd
Hovatter Rd
69
Ave 75E
Ave 75E
70
ENTERING
Maricopa County
ENTERING
La Paz County
81
Salome Rd
Salome Rd
88
Rest Area
Rest Area
94
Tonopah
Tonopah
98
Wintersburg Rd
Wintersburg Rd
103
339th Ave
339th Ave
109
Sun Valley Pkwy
Palo Verde Road
Sun Valley Pkwy
Palo Verde Road
112

TO


Gila Bend

TO


Gila Bend
114
Miller Rd
Miller Rd
117
Watson Rd
Watson Rd
120
Verrado Way
Verrado Way
121
Jackrabbit Trail
Jackrabbit Trail
122
Perryville Rd
Perryville Rd
123
Citrus Rd
Sarival Ave
124A

N

ORTH

N

ORTH
124B

S

OUTH

S

OUTH
125
Sarival Ave
Citrus Rd
126
PebbleCreek Pkwy
Estrella Pkwy
PebbleCreek Pkwy
Estrella Pkwy
127
Bullard Ave
Bullard Ave
128
Litchfield Rd
Luke Air Force Base
Litchfield Park
Phoenix-Goodyear Airport
Litchfield Rd
Luke Air Force Base
Litchfield Park
Phoenix-Goodyear Airport
129
Dysart Rd
Estrella Mtn Comm College
Dysart Rd
Estrella Mtn Comm College
130
Fairway Dr
Fairway Dr
131
Avondale Blvd
Avondale Blvd
132
107th Ave
133A
99th Ave
99th Ave
107th Ave
133B

N

ORTH

N

ORTH
134
91st Ave
91st Ave
Downtown Tolleson
135
83rd Ave
83rd Ave
Concert Pavilion
Concert Pavilion
136
75th Ave
Concert Pavilion
136A

◊ HOV EXIT


79th Ave
LEFT EXIT
136B
75th Ave
Concert Pavilion
137
67th Ave
59th Ave
138

S

OUTH
138A

S

OUTH
138B

◊ HOV EXIT




S

OUTH
LEFT EXIT
138C
67th Ave
139
51st Ave
59th Ave
140
43rd Ave
43rd Ave
141
35th Ave
35th Ave
142
27th Ave
143A

N

ORTH
Flagstaff

N

ORTH
Flagstaff
143B

S

OUTH

E

AST
I-10 TRUCK ROUTE

S

OUTH
143C
19th Ave
State Capitol
Fairgrounds
Coliseum
144
7th Ave
144A
7th Ave
Downtown
Cultural/Sports Facilities
144B

◊ HOV EXIT


5th Ave
3rd Ave
LEFT EXIT
145
7th St
145A
7th St
Downtown
Cultural/Sports Facilities
145B

◊ HOV EXIT


3rd St
LEFT EXIT
146
16th St
147A

E

AST

E

AST
147B

N

ORTH

N

ORTH
147C

◊ HOV EXIT




E

AST

◊ HOV EXIT




N

ORTH
LEFT EXIT
LEFT EXIT
148
Washington St
Jefferson St
Rental Car Return
Washington St
Jefferson St
149
Sky Harbor Airport
Buckeye Rd
Sky Harbor Airport
Rental Car Return
150

N

ORTH
Flagstaff
150A

N

ORTH

W

EST
Flagstaff
I-10 TRUCK ROUTE
150B
24th St
151
University Dr
32nd St
University Dr
32nd St
152
40th St
40th St
153
- 48th St
Broadway Rd
153A

N

ORTH
Sky Harbor Airport
153B
Broadway Rd
52nd St
154

◊ HOV EXIT




E

AST
LEFT EXIT

E

AST
Mesa - Globe

E

AST
Mesa - Globe
155
Baseline Rd
Guadalupe
Baseline Rd
157
Elliot Rd
Elliot Rd
Guadalupe
158
Warner Rd
Warner Rd
159
Ray Rd
Ray Rd
160
Chandler Blvd
Chandler Blvd
161A-B
161C

◊ HOV EXIT




E

AST
LEFT EXIT
162
Wild Horse Pass Blvd
Sundust Rd
Wild Horse Pass Blvd
Sundust Rd
164

S

OUTH
Queen Creek Rd
Maricopa
Ak-Chin Indian Community

S

OUTH
Queen Creek Rd
Maricopa
Huhugam Heritage Center
Huhugam Heritage Center
167
Riggs Rd
Riggs Rd
168
ENTERING
Pinal County
ENTERING
Maricopa County
175

N

ORTH
Casa Blanca Rd
Sacaton

N

ORTH
Chandler
Gilbert
Casa Blanca Rd
Sacaton
183
Rest Area
Rest Area
185

Casa Grande
Coolidge
Casa Grande Airport

Sacaton
Florence
Casa Grande Ruins
National Monument
190
McCartney Rd
Central Arizona College
McCartney Rd
Central Arizona College
194

Florence Blvd

Florence Blvd
Pinal County Fairgrounds
Casa Grande Ruins
National Monument
Pinal County Fairgrounds
198
Jimmie Kerr Blvd
Jimmie Kerr Blvd
199

W

EST
San Diego

W

EST
San Diego


PHOENIX BYPASS ROUTE

200
Sunland Gin Rd
Arizona City
Sunland Gin Rd
Arizona City
203
Toltec Rd
Toltec Rd
208
Sunshine Blvd
Sunshine Blvd
211

N

ORTH
Coolidge
Florence
Picacho

N

ORTH
Coolidge
Florence
Picacho
219
Picacho Peak Rd
Picacho Peak Rd
Picacho Peak State Park
Picacho Peak State Park
226
Red Rock
Red Rock
229
APS Power Plant
(unsigned)
232
Pinal Air Park Rd
Army National Guard
Aviation Training Site
Pinal Air Park Rd
Army National Guard
Aviation Training Site
ENTERING
Pima County
ENTERING
Pinal County
236
Marana Rd
Marana Rd
240
Tangerine Rd
Oro Valley
Tangerine Rd
Oro Valley
242
Avra Valley Rd
Marana Regional Airport
Avra Valley Rd
Rillito
Marana Regional Airport
Saguaro National Park
Saguaro National Park
244
Twin Peaks Rd
Twin Peaks Rd
246
Cortaro Rd
Cortaro Rd
248
Ina Rd
Ina Rd
250
Orange Grove Rd
Orange Grove Rd
251
Sunset Rd
Sunset Rd
252
El Camino Del Cerro
Ruthrauff Rd
El Camino Del Cerro
Ruthrauff Rd
254
Prince Rd
Prince Rd
255

N

ORTH
Miracle Mile

N

ORTH
Miracle Mile
256
Grant Rd
Grant Rd
257
Speedway Blvd
St Marys Rd
Univ of Arizona
Pima Comm College
Speedway Blvd
Univ of Arizona
Pima Comm College
Desert Museum
Old Tucson
Desert Museum
Old Tucson
258
Congress St
Broadway Blvd
Congress St
St Marys Rd
Broadway Blvd
Convention Center
Convention Center
259
22nd St - 29th St
Starr Pass Blvd
Silverlake Rd
City of South Tucson
22nd St - 29th St
Starr Pass Blvd
Silverlake Rd
260

S

OUTH
Nogales

S

OUTH
Nogales
Desert Museum
Old Tucson
Desert Museum
Old Tucson
261
6th Ave
4th Ave
4th Ave - 6th Ave
City of South Tucson
262
Benson Hwy
Park Ave
Park Ave
263
Ajo Way
Kino Pkwy
263A
Kino Pkwy South
Tucson Intl Airport
263B
Kino Pkwy North
Ajo Way
EXIT 25 MPH
264
Irvington Rd
Palo Verde Rd
Kino Sports Complex
264A
Palo Verde Rd South
264B
Palo Verde Rd North
Irvington Rd
EXIT 25 MPH
Kino Sports Complex
265
Alvernon Way
Davis-Monthan AFB
Alvernon Way
Davis-Monthan AFB
267
Valencia Rd
Valencia Rd
Tucson Intl Airport
Pima Air and Space Museum
Pima Air and Space Museum
268
Craycroft Rd
Craycroft Rd
269
Wilmot Rd
Wilmot Rd
270
Kolb Rd
Kolb Rd
273
Rita Rd
Rita Rd
Pima County Fairgrounds
Pima County Fairgrounds
275
Houghton Rd
Houghton Rd
Saguaro National Park
Pima County Fairgrounds
Saguaro National Park
Pima County Fairgrounds
279
Colossal Cave Rd
Wentworth Rd
Vail
Colossal Cave Rd
Wentworth Rd
Vail
Colossal Cave
Mountain Park
Colossal Cave
Mountain Park
281

S

OUTH
Sonoita
Patagonia

S

OUTH
Sonoita
Patagonia
Scenic Route
EXIT 25 MPH
Scenic Route
291
Marsh Station Rd
Marsh Station Rd
292
Empirita Rd
Empirita Rd
296
ENTERING
Cochise County
ENTERING
Pima County
297
Mescal Rd
J Six Ranch Rd
Mescal Rd
J Six Ranch Rd
299
Skyline Rd
Skyline Rd
302

E

AST
Ft Huachuca
Sierra Vista

E

AST
Ft Huachuca
Sierra Vista
Kartcher Caverns
State Park
Fort Huachuca
Natl Historic Site
Kartcher Caverns
State Park
Fort Huachuca
Natl Historic Site
303

TO

E

AST
Tombstone
Douglas
Bisbee
Tombstone Courthouse
State Historic Park
304
Ocotillo Ave
Benson Airport
Ocotillo Ave
Benson Airport
306
Pomerene Rd

TO

E

AST
Pomerene Rd
Tombstone
312
Sibyl Rd
Sibyl Rd
318
Dragoon Rd
Dragoon Rd
320
Rest Area
Rest Area
322
Johnson Rd
Johnson Rd
331

S

OUTH
Sunsites
Douglas

S

OUTH
Sunsites
Douglas
Cochise Stronghold
Cochise Stronghold
336

TO

E

AST
TO Taylor Rd

TO Taylor Rd
Chiricahua Natl Monument
340

E

AST
Rex Allen Dr
Fort Grant Rd

E

AST
Rex Allen Dr
Fort Grant Rd
Chiricahua Natl Monument
344

TO Old Stewart Rd

TO Old Stewart Rd
352

N

ORTH
Safford

N

ORTH
Safford
355
Safford

TO

N

ORTH
Safford
362

Bowie

Bowie
Fort Bowie Natl
Historic Site
366

Bowie

Bowie
Fort Bowie Natl
Historic Site
378

San Simon

San Simon
382

San Simon

San Simon
384
Weigh Station
388
Rest Area
Rest Area
390
Cavot Rd
Cavot Rd
391
New Mexico State Line
---
Page last updated: 6/16/2023