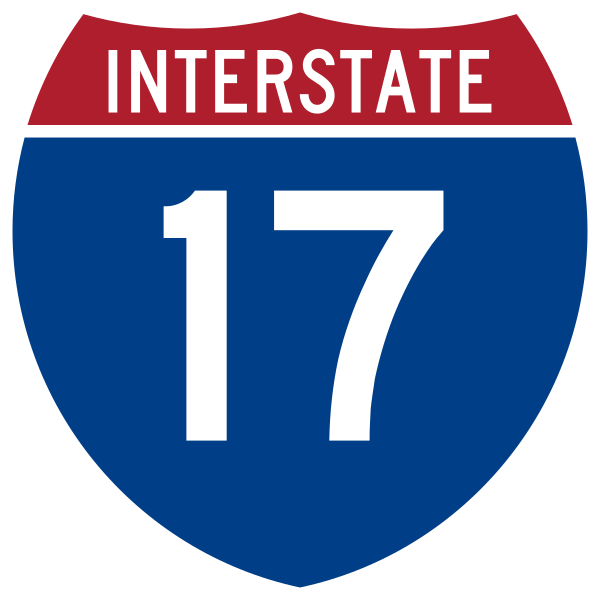 Interstate 17
Interstate 17 is one of the two Interstates in Arizona that are entirely within the state. It runs from I-40 in Flagstaff to I-10 in Phoenix. I-17 is the main route for people to take from southern Arizona to get to Flagstaff and vice-versa. I-17 mostly replaced segments of AZ 69 and AZ 79.
---
---
Cool Features
I-17 was the first segment of freeway that was built in Phoenix in the mid 1950s.
I-17 is the first Interstate freeway in Arizona to get a DDI interchange. It can be found at Happy Valley Rd. The first DDIs in the entire state can be found on Loop 202. However, the DDIs on Loop 202 are only half DDIs. The Happy Valley DDI is the first full DDI in the state.
I-17's mile markers begin at mile 194 instead of 0. The reason for this is because I-17's mile markers were inherited from AZ 69. AZ 69's mile markers came from old US 89 at mile 201. ADOT used to begin mile markers for highways equal to the mile markers on the highway it branches from. This resulted in the current situation.
Related Routes
Business Loop 17
Until 2011, there was a business loop for I-17 in Black Canyon City. It followed the Old Black Canyon Highway from Exit 242 to Exit 244.
Pictures
Exit List
Exit/
Mile
Northbound Exits
Read down
Southbound Exits
Read up
194

E

AST
Globe
Tucson

W

EST


Sky Harbor Airport

195A
16th St
195B
7th St
Central Ave
7th St
196
7th Ave
7th Ave
Central Ave
197
19th Ave
State Capitol
Durango St
19th Ave
198
Buckeye Rd
199A
Grant St
Grant St
Buckeye Rd
199B
Adams St
Van Buren St
Jefferson St
200A

W

EST


Los Angeles

E

AST


E

AST


Central Phoenix

W

EST


Los Angeles

200B
McDowell Rd
McDowell Rd
Van Buren St
201

W

EST
Thomas Rd
Grand Ave

W

EST


Thomas Rd

202
Indian School Rd
VA Hospital
Indian School Rd
VA Hospital
203
Camelback Rd
Grand Canyon Univ
Camelback Rd
Grand Canyon Univ
204
Bethany Home Rd
Bethany Home Rd
205
Glendale Ave
Glendale Ave
206
Northern Ave
Northern Ave
207
Dunlap Ave
Glendale Comm College
Ottawa University
DeVry University
Dunlap Ave
Glendale Comm College
Ottawa University
DeVry University
208
Peoria Ave
Peoria Ave
209
Cactus Rd
Cactus Rd
210
Thunderbird Rd
Arizona State
University - West
Thunderbird Rd
Arizona State
University - West
211
Greenway Rd
Northern Arizona University
Greenway Rd
Northern Arizona University
212
Bell Rd
Bell Rd
214A
Union Hills Dr
Union Hills Dr
214B
Yorkshire Dr
Yorkshire Dr
214C
215A
Rose Garden Ln
Deer Valley Rd
215B
Deer Valley Rd
Deer Valley Rd
Rose Garden Ln
217
Pinnacle Peak Rd
Pinnacle Peak Rd
Arizona State Parks
Outdoor Recreation
Info Center
Arizona State Parks
Outdoor Recreation
Info Center
218
Happy Valley Rd
Happy Valley Rd
219
Jomax Rd
Jomax Rd
220
Dixileta Dr
Dixileta Dr
221

S

OUTH


Sonoran Desert Dr

S

OUTH


Sonoran Desert Dr

222
Dove Valley Rd
Dove Valley Rd
223

W

EST
Carefree Hwy
Wickenburg
Ben Avery Shooting Range
Lake Pleasant Regional Park
223A
Carefree Hwy East
223B

W

EST
Carefree Hwy
Wickenburg
EXIT 25 MPH
Ben Avery Shooting Range
Lake Pleasant Regional Park
225
Pioneer Rd
Pioneer Rd
Pioneer Living
History Museum

Pioneer Living
History Museum

227
Daisy Mountain Dr
Daisy Mountain Dr
229
Anthem Way
Anthem Way
232
New River
New River
236
Table Mesa Rd
Table Mesa Rd
241
ENTERING
Yavapai County
ENTERING
Maricopa County
242
Rock Springs
Black Canyon City
Rock Springs
Black Canyon City
244
Black Canyon City
Coldwater Rd
Black Canyon City
Coldwater Rd
248
Bumble Bee
Crown King
Bumble Bee
Horsethief Basin
Recreation Area

252
Sunset Point
REST AREA
SCENIC VIEW
Sunset Point
REST AREA
SCENIC VIEW
256
Badger Springs Rd
Badger Springs Rd
259
Bloody Basin Rd
Bloody Basin Rd
Agua Fria
National Monument
Horsethief Basin

262

N

ORTH
Cordes Lakes Rd
Prescott
263
Arcosanti Rd

N

ORTH
Arcosanti Rd
Prescott
Cordes Lakes Rd
Arcosanti
268
Orme Rd
Dugas Rd
Orme Rd
Dugas Rd
278



Dewey-Humboldt


Prescott
Dewey-Humboldt
285



Gen Crook Trail




Gen Crook Trail

Fort Verde
State Park

Fort Verde
State Park

287

TO


Cottonwood
Payson
Jerome - Clarkdale
Tuzigoot Natl Mon

TO


Cottonwood
Payson
Jerome - Clarkdale
Tuzigoot Natl Mon
289
Middle Verde Rd
Middle Verde Rd
Montezuma Castle
National Monument

Montezuma Castle
National Monument

293

McGuireville
Montezuma Well
Rimrock
Lake Montezuma
Cornville

McGuireville
Montezuma Well
Rimrock
Lake Montezuma
Cornville
296
Rest Area
Rest Area
298

N

ORTH


Sedona

N

ORTH


Sedona

Oak Creek Canyon
Oak Creek Canyon
306
Stoneman Lake Rd
Stoneman Lake Rd
311
ENTERING
Coconino County
ENTERING
Yavapai County
313
Scenic View
315
Rocky Park Rd
Rocky Park Rd
317
Fox Ranch Rd
Fox Ranch Rd
320
Schnebly Hill Rd
Schnebly Hill Rd
322
Munds Park
Pinewood Blvd
Munds Park
Pinewood Blvd
326
Willard Springs Rd
Willard Springs Rd
328
Newman Park Rd
Newman Park Rd
331
Kelly Canyon Rd
Kelly Canyon Rd
333
Kachina Blvd
Mountainaire Rd
Kachina Blvd
Mountainaire Rd
337

S

OUTH


Flagstaff Airport

S

OUTH
Sedona
Oak Creek Canyon
Flagstaff Airport
Fort Tuthill County Park
Fort Tuthill County Park
339
Lake Mary Rd
Mormon Lake
Lake Mary Rd
Mormon Lake
340A

E

AST


Albuquerque

E

AST


Albuquerque

340B

W

EST


Los Angeles

W

EST


Los Angeles

341
McConnell Dr
FREEWAY ENDS
---
Page last updated: 9/9/2023