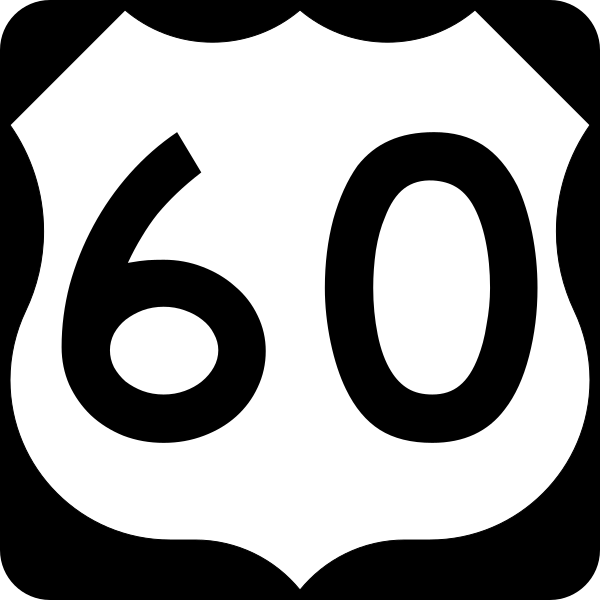 US 60
In Arizona, US 60 runs from rural western AZ near Quartzsite to New Mexico. US 60 is a pretty major cross-country highway that runs from AZ to Virginia. US 60 used to run all the way to Los Angeles, however I-10 took over most of its route past Arizona.
---
Length: 2,655 miles in total, 369 miles in Arizona
Existed since: 1926 nationally, 1931 in Arizona
Current Route in Arizona: I-10 east of Quartzsite to New Mexico state line
Historical Route in Arizona: California state line in Ehrenberg to New Mexico state line
Current Route Nationally: Near Quartzsite, AZ to Virginia Beach, VA
Historical Route Nationally: Los Angeles, CA to Virginia Beach, VA
Major Junctions: I-10, AZ 72, AZ 71, US 93, AZ 74, Loop 303, Loop 101, I-17, AZ 143, AZ 87, Loop 202, AZ 88, AZ 79, AZ 177, AZ 188, US 70, AZ 77, AZ 73, AZ 260, AZ 61, US 180, US 191
---
Cool Features
US 60 east of Phoenix has many mountainous segments. There are many cool bridges, tunnels, winding curves, and views. The highway is named the Gila Pinal Scenic Road likely for its scenic views in both Gila and Pinal Counties.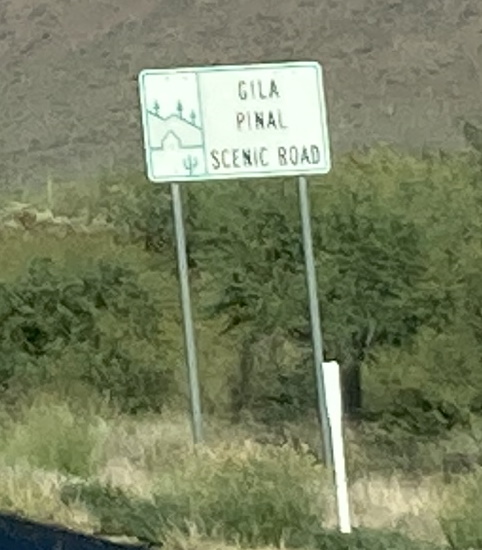 Old Superior-Miami Highway
US 60 was originally routed on the old Superior-Miami Highway, which opened in April 1922. Due to the route's dangerous turns, cliffs, and grades, the old highway was replaced in 1952 by the current routing of US 60. The original Claypool Tunnel was also replaced with the current Queen Creek Tunnel.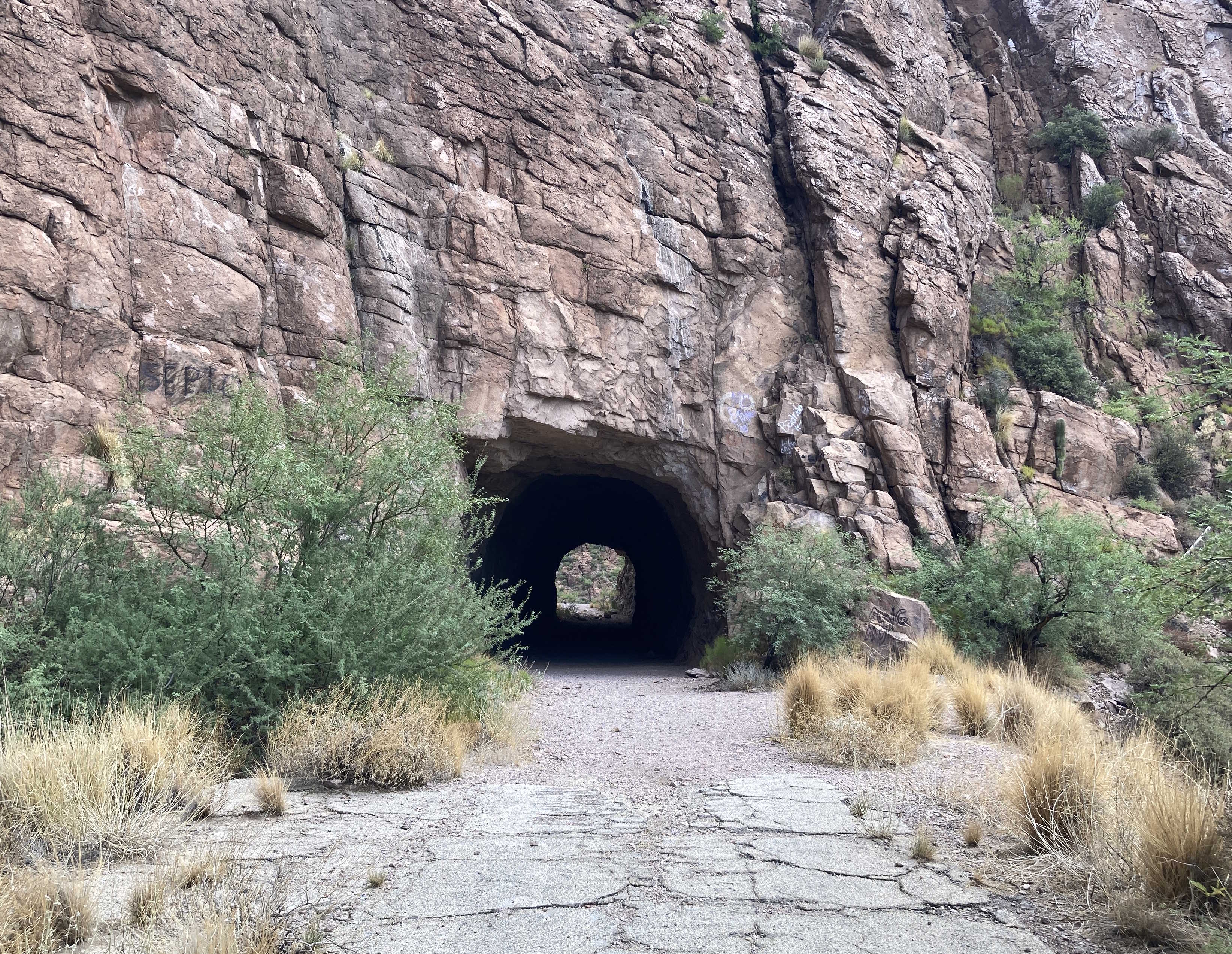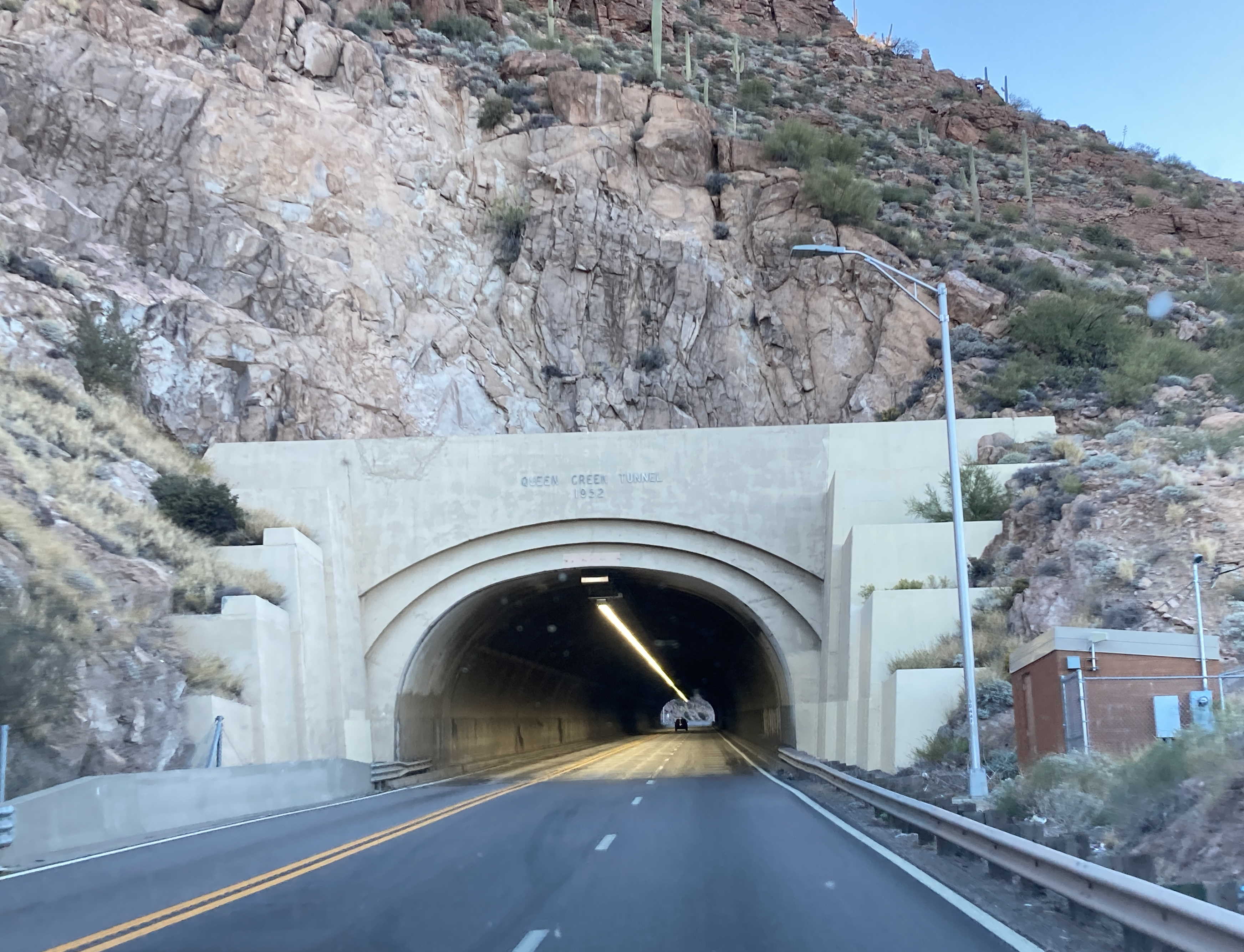 The new routing of US 60 now has a larger arch bridge across Queen Creek.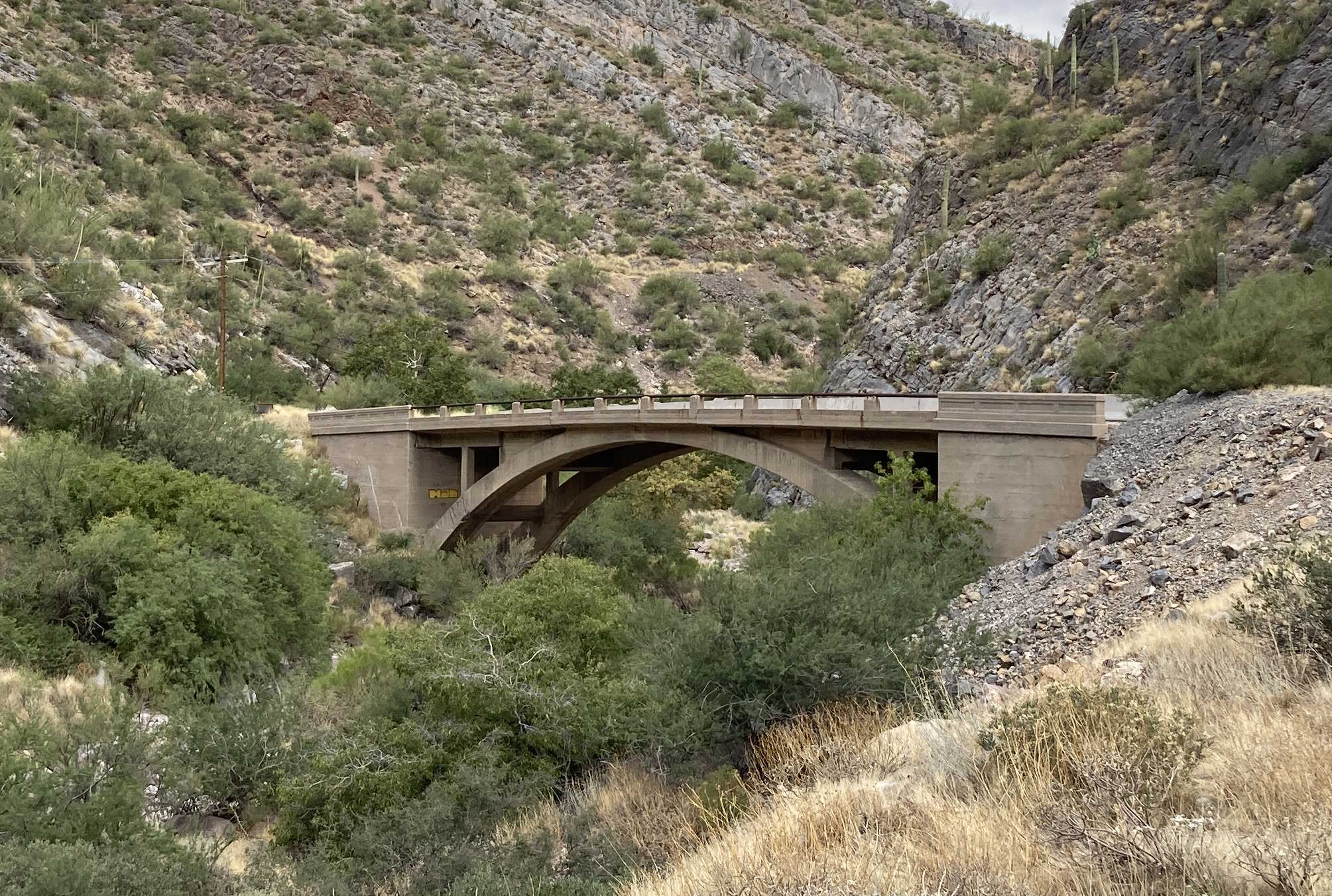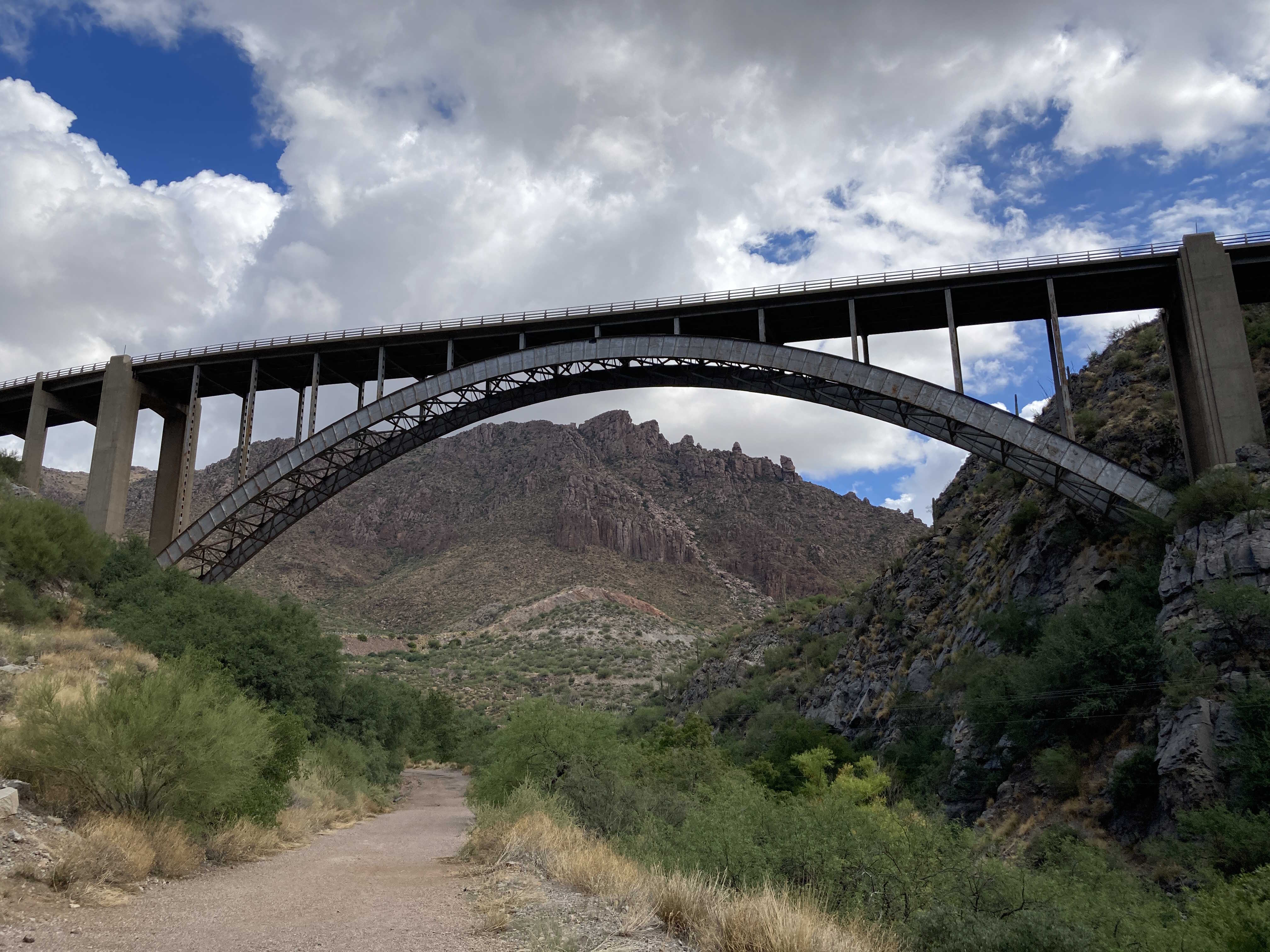 Bridges
One of the cool bridges on US 60 was the 1949 award winning Pinto Creek Bridge. You can view images of it on Arizona Roads. However, in 2021 ADOT has replaced the bridge with a modern bridge as the old one had reached the end of its useful life. You can see pictures of the new bridge here on the ADOT Flickr:

US 60, along with SR 77 goes through Salt River Canyon. The old bridge pictured below was replaced by the new, wider bridge in the late 90s. The old bridge is now a pedestrian bridge.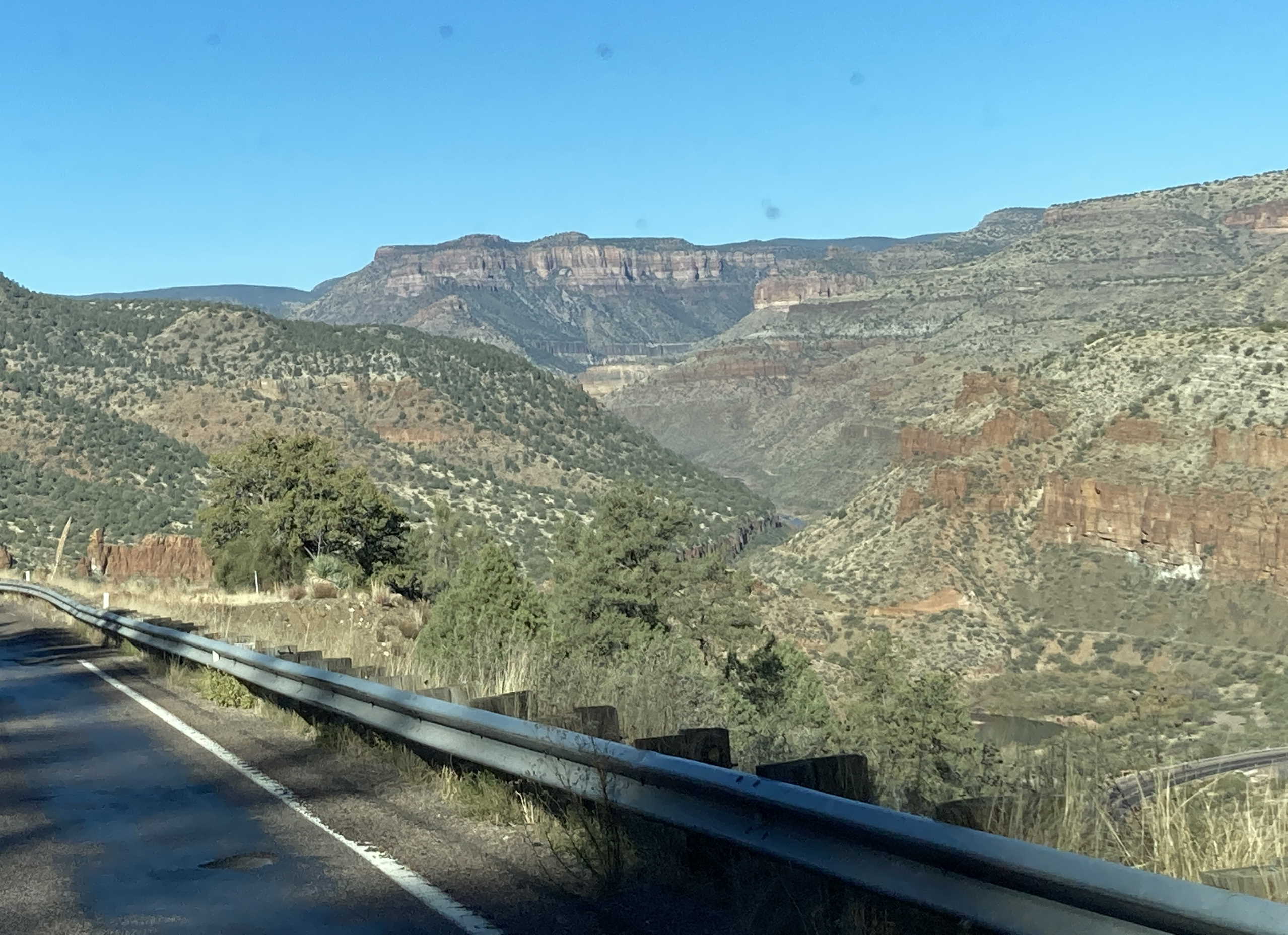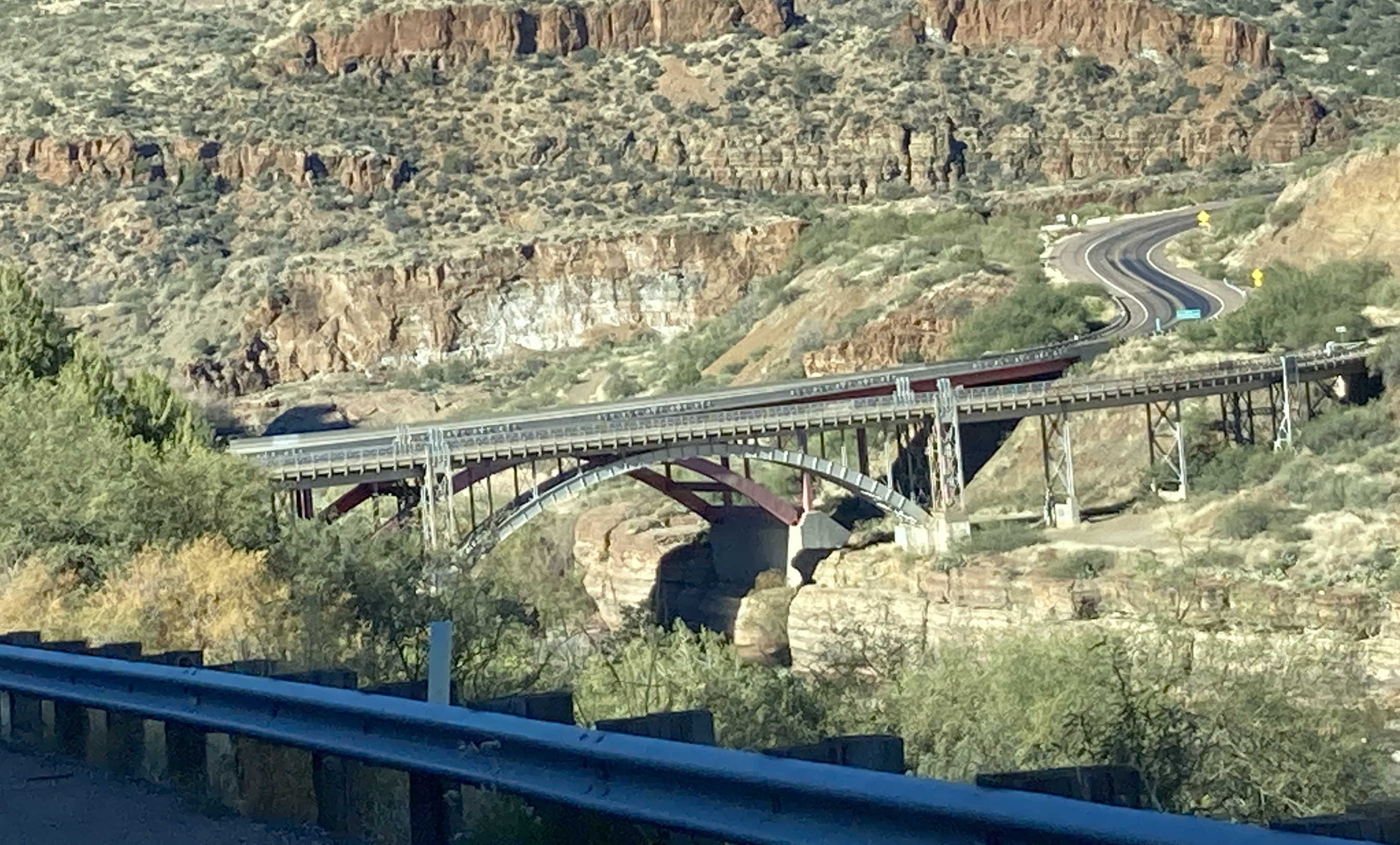 Extras
US 60 is also named in memory of Governor Rose Mofford east of Phoenix.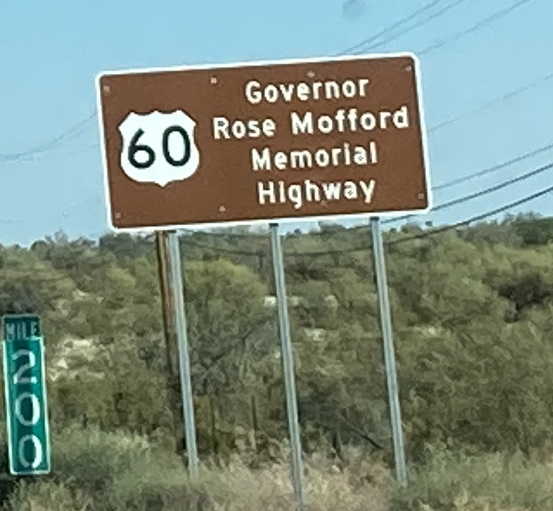 Between State Route 79 and the town of Superior, there is an exempt railroad crossing on US 60.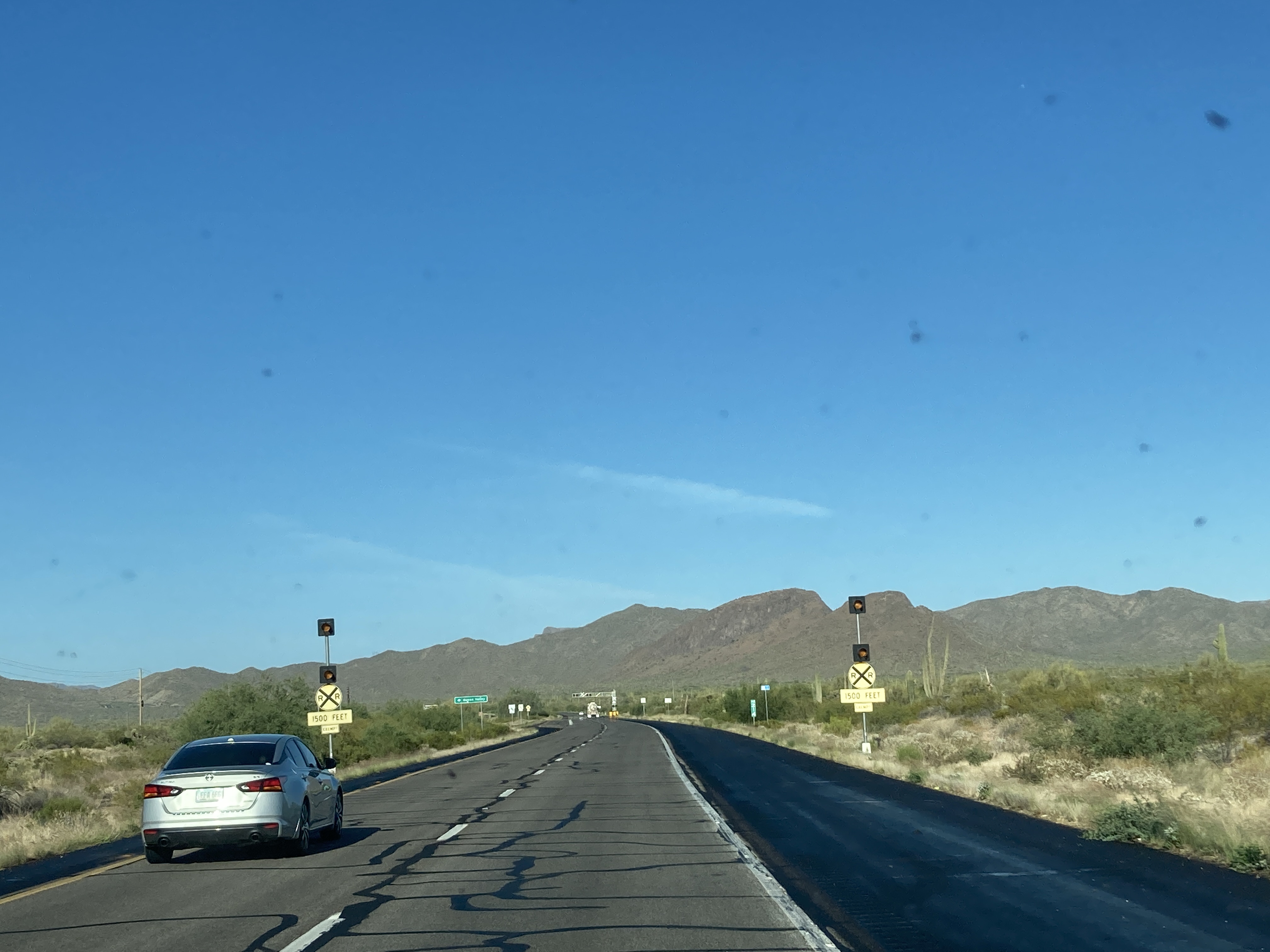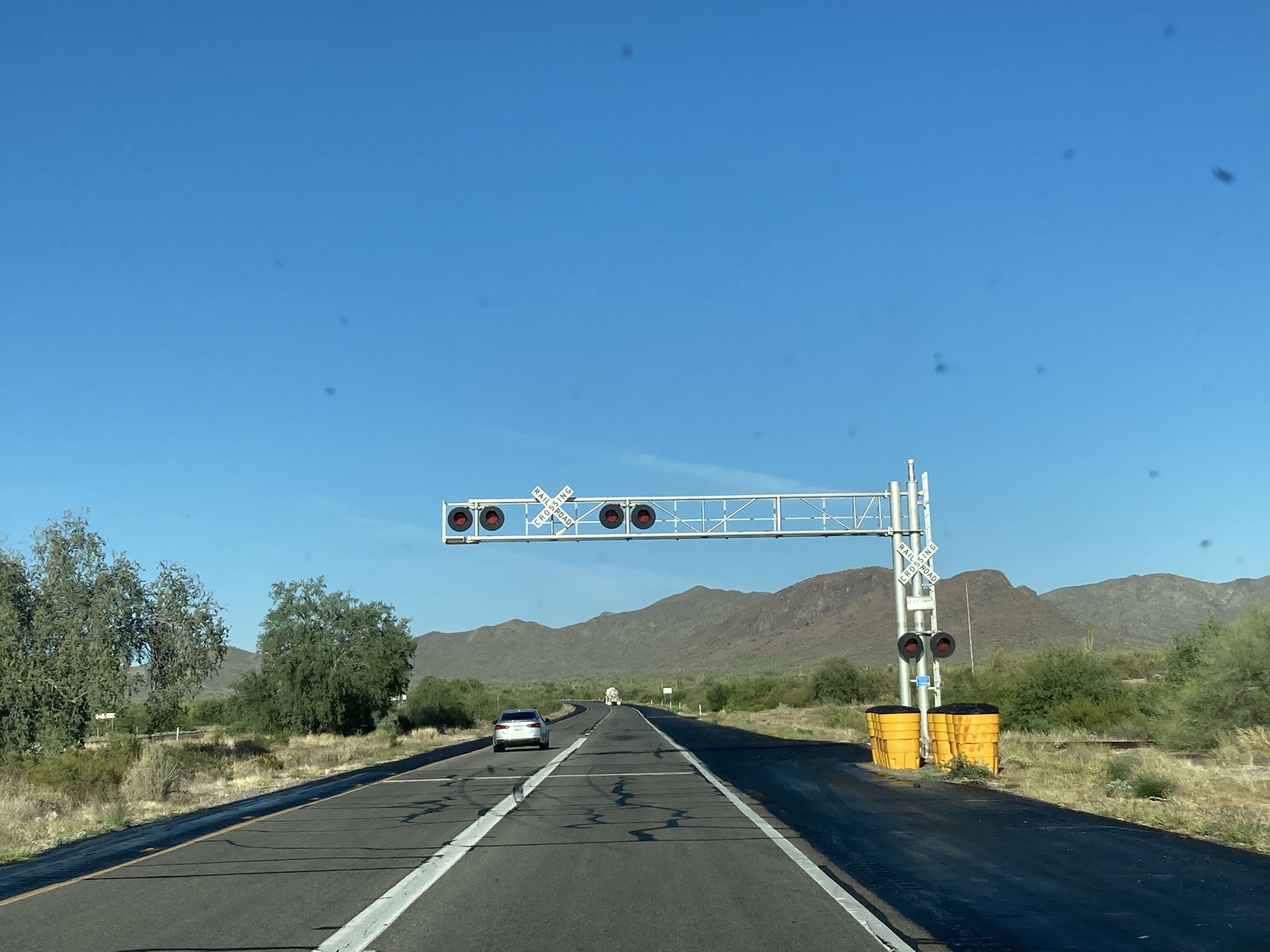 Related Routes
US 60X
US 60X is an unsigned route, listed by ADOT as two separate segments. Both of these segments are portions of the original alignment of US 60 through the Phoenix area. The first US 60X segment begins at Exit 160 on Grand Avenue and follows it southeast, ending at the intersection with 18th Ave and Willetta St. The second segment of US 60X is in Mesa and runs along Main St/Apache Trail from Sossaman Rd to Meridian Dr. An interesting feature of these segments is that they have mile markers posted, likely from the previous US 60 alignment.
Pictures
Videos
Significant Intersection/Exit List
Exit/
Mile
Eastbound Exits
Read down
Westbound Exits
Read up
31
JCT
49

W

EST


Parker

74
ENTERING
Maricopa County
ENTERING
La Paz County
86

N

ORTH


Prescott

110

N

ORTH
Kingman
Las Vegas
120

E

AST

138
JCT
142
Bell Road
Bell Road
LEFT EXIT
LEFT EXIT
148

S

OUTH
149

N

ORTH
157
43rd Ave
Camelback Rd
43rd Ave
Camelback Rd
160
27th Ave
TO Thomas Rd
27th Ave
TO Thomas Rd
JCT
171

◊ HOV EXIT




W

EST


Phoenix

E

AST


Tucson




LEFT EXIT

W

EST


Phoenix

172
Priest Dr
173
Mill Ave
Arizona State University
- Tempe
Mill Ave
Arizona State University
- Tempe
174
Rural Rd
Rural Rd
175
McClintock Dr
McClintock Dr
176A

S

OUTH


S

OUTH

176B

N

ORTH


N

ORTH

177
Dobson Rd
Mesa Comm College
Dobson Rd
Mesa Comm College
178
Alma School Rd
Alma School Rd
179

Country Club Dr
Chandler
Downtown Mesa
Community Center

Country Club Dr
Chandler
Downtown Mesa
Community Center
180
Mesa Dr
Maricopa CO SE Complex
Mesa Dr
Maricopa CO SE Complex
181
Stapley Dr
Stapley Dr
182
Gilbert Rd
Gilbert
Gilbert Rd
Gilbert
184
Val Vista Dr
Val Vista Dr
185
Greenfield Rd
Greenfield Rd
Gilbert Riparian Preserve
Gilbert Riparian Preserve
186
Higley Rd
A T Still University
Higley Rd
187
Superstition Springs Blvd
188
Power Rd
Power Rd
A T Still University
189
Sossaman Rd
190A

N

ORTH


N

ORTH

190B

S

OUTH


S

OUTH

191
Ellsworth Rd
Queen Creek
Ellsworth Rd
Queen Creek
192
Crismon Rd
Crismon Rd
193
Signal Butte Rd
Signal Butte Rd
194
Meridian Rd
ENTERING
Maricopa County
ENTERING
Pinal County
195
Ironwood Dr
Ironwood Dr
196

E

AST


Idaho Rd

E

AST


Idaho Rd

Lost Dutchman State Park
Canyon Lake
Lost Dutchman State Park
Canyon Lake
197
Tomahawk Rd
Tomahawk Rd
198
Goldfield Rd
Goldfield Rd
199
FREEWAY ENDS
Old West Hwy
212

S

OUTH


Florence

S

OUTH


Florence

227

S

OUTH
Kearny
Winkelman

S

OUTH
Kearny
Winkelman
236
ENTERING
Gila County
ENTERING
Pinal County
247

N

ORTH


Roosevelt

252
JCT

E

AST
Show Low
Springerville
Tucson
Safford
316
ENTERING
Navajo County
ENTERING
Gila County
318

S

OUTH
Fort Apache
White River
Fort Apache Natl Historic Park
340

W

EST


Overgaard

Fool Hollow Lake Recreation Area
341

E

AST


Pinetop-Lakeside

342

N

ORTH


Holbrook

352
ENTERING
Apache County
ENTERING
Navajo County
353

E

AST


St Johns

384

W

EST

N

ORTH


St Johns

Lyman Lake State Park
388

E

AST

S

OUTH


Alpine

401
New Mexico State Line
---
Page last updated: 9/3/2023